For the past few month's, I have had some internal stomach and lower back issues that the
doctors could not figure out the cause. After numerous tests, a mass was found in my left ovary. On November 20th, my left ovary was removed. Initially, I was told that the tumor was benign and that there were some hormones feeding the tumor which were going to sent out for testing. At my post-op visit, I learned that the hormones are cancerous and that my body's form of cancer is less than .01% of the population. My body has carcinoid tumors, which are a form of cancer. I will be going into a series of more tests to see if my body's organs have any more tumors in them and what my next steps will be.
For the past few weeks, I have been in a total and complete haze. Working through complete exhaustion, resting as much as I can and working with my realization of what really matters to me in this lifetime if my time is shortened (from my expectations) on this earth.
What keeps resignating within me is appreciation.
There is such a wide spectrum of appreciation that keeps manifesting in my attention, from a warm shower to God's breath that has been fueling me for these 46 years.
I appreciate my fur babies, who snore, fart, have the worst breathe ever, bark at anything or anyone walking on my street if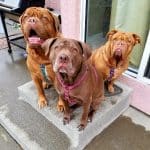 the front door is open and above all know when I need slobbery kisses and cuddles.  My chai teas, (with almond milk of course), my my yummy smoothies, figs, fro-yo, Thai food, tacos, moon pies, all cookies in this entire world, amazing massages and foot rubs, pedicures with the hot wax, hand massages, manatees, leggings, the perfect pair of jeans, cozy sweats, beautiful (comfortable) shoes, aloe vera, onesies, toe socks, paddle boarding, running, swimming, working out, music, Bob Marley, beautiful sunsets, Puerto Rico, Hawaii, the smell of rain…
I appreciate all the loved ones, who have been supporting and taking care of me through this experience. I appreciate and applaud those who have shined their light on me, encouraged me,  gave endless kisses, held me in their arms, cried with me, rubbed my back, brushed my hair, gave me sponge baths, squeezed my body when I shuttered and broke down with the scary words coming at me.  I appreciate those who have stepped up and helped in my professional work. Those who are being my strength, my logic, my reason to cope with this experience. Those who love me unconditionally. …
I appreciate love, patience, understanding, compassion, consciousness, growth, empowerment,  education, knowledge, logic, gut feelings, enlightenment, happiness, joy, strength, wisdom, faith, will power, determination, community, accountability, contribution, awareness, dignity, gratitude, humility, intentions, innocence, karma, dharma, responsibility, …
I appreciate my divine appointments, all of them, every last one of them. The happiness I have felt that is beyond this universe, even the ones that, at the time felt like I could never go on. I appreciate being pushed out of my comfort zone nest that I keep repeatingly re-create over and over gain. I appreciate having the courage to accomplish feats that once I thought were impossible. I appreciate the love of my life, Jesse Palmer, who has endlessly, tirelessly and unconditionally been there to make sure I keep breathing in my appreciation and understanding of each moment presented to me.
I appreciate my lifework and the connections I have made and the opportunities I have been given. I appreciate my time of  service and the humility it has brought me.
I appreciate my meditations and my connection to God.
I appreciate life. I appreciate death.
I appreciate this moment, this exact one and the realization that I have absolutely no control over waking up tomorrow morning or even collapsing within the next few moments. I appreciate the opportunity to breathe.
My intention for writing this is tell all of you that I appreciate you, for our experiences, our laughs, our tears and our connections. Please do not feel sorry for me or be sad. Please help me to live in the ever growing appreciations that are presented to all of us on an ongoing basis.
I am choosing to continue to keep adding on a regular basis to this post as I come across more and more appreciations….