Originally published in The Vacaville Reporter on October 19, 2017 By Kimberly K. Fu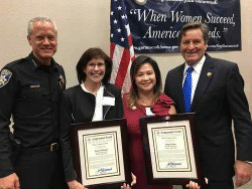 Amidst a backdrop of the American flag and a banner reading "When Women Succeed, America Succeeds," Congressman John Garamendi, D-Solano, Thursday in Woodland welcomed 36 women into the family.
That is, the elite group of 3rd Congressional District Women of the Year recipients dating back about five years.
These women — from Solano, Yolo, Yuba, Sutter and Glenn counties — are all outstanding, Garamendi said, all peer-nominated and deeply involved in community service.
The congressman's wife, Patti, congratulated honorees on being the "backbone of the community."
Her husband agreed.
"Each of you today is the foundation of where you live," he advised. "You are the women who provide the ongoing support in the community."
Each woman's name, he said, will go into the Congressional Record and be preserved for all time.
In Solano County, 16 women were honored.
Of those, seven were from Vacaville and two women represent the Vacaville Neighborhood Boys & Girls Club.
Anna Eaton, the executive director, and Susan Schwartz, a volunteer extraordinaire, were both recognized for their dedication and commitment.
Eaton previously was named Woman of the Year by Assemblyman Jim Frazier, D-Solano.
She was honored for her dedication to youth through multiple platforms including Starbound Theatre, which she founded, expanding the reach of the club, spearheading multiple youth summits and more.
Schwartz, who served in the Army, is also a businesswoman and a staunch advocate for youth.
A "child whisperer," she's dedicated to helping kids grow and learn and be successful. She created numerous programs at the club and, through them, teaches cooking skills that resulted in meals for the homeless and enhanced their sense of giving through bell-ringing for the Salvation Army, making fleece gifts for the needy and collecting toys and meals for low income families at Christmas. She's also brought in business mentors for the youth and aims to expose them to programs that bolster self esteem and self worth, such as the Miss Representation Project and The Mask You Live In.
Other Vacaville nominees include Barbara Graham, Lynn Jewell, Kathleen Ramos, Tracee Stacy and Patricia Zetah.
Other Solano nominees include Tranine Chisom, Michalle Shown-Rodriguez, Renee Tadlock and K. Patrice Williams of Fairfield; Barbara Beckworth, Catherine Morris, Louise Walker and Nancy Wells of Dixon; and Sakari Lyons of Solano County.
Other winners include:
• Glenn County: Judith Holzapfel and Jody Samons.
• Sutter County: Michele Blake, Barbara "Babs" Cotter, Baljinder Dhillon, Laurie Goodman, Christine Ivory, Jeannie Klever and Brynda Stranix.
• Yolo County: Sheila Allen, Marlene Bell, Ronda DeRosa, Robin Dewey, Becky Marigo, Rita Montes Martin, Kate Mellon-Anibaba, Miriam Miller and Christine Ponce.
• Yuba County: Susan Scott.
Photo credit: Kimberly K. Fu — The Reporter Vacaville Women of the Year recipients Susan Schwartz, left, and Anna Eaton, right, are flanked by Vacaville police Chief John Carli, far left, and Congressman John Garamendi, far right. The women were among 36 in the 3rd Congressional District honored by Garamendi.