Originally published on Seattle Times on 15, 2017 By Katelyn N. Brewer and Cathy Huber.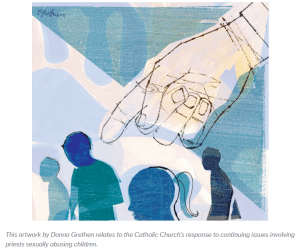 Why did it take a fifth report to compel Mayor Ed Murray's resignation when four others spoke out months ago? How was he able to remain in public office during this time?
Months ago, four men disclosed to the world that Seattle Mayor Ed Murray had molested them as children.
During this time, he stood strong in his convictions and remained in office, all while discrediting these individuals and their allegations as part of some sort of "right-wing conspiracy." It was only after a fifth victim came forward — Murray's cousin, who claimed that he also was victimized as a child — that the mayor finally decided the distraction was too great and determined it was time to resign.
For those of us who dedicate our lives to the prevention and treatment of child sexual abuse, stories like this feel like a gruesome Groundhog Day.
Why did it take a fifth report to compel his resignation when four others spoke out months ago? How was Murray able to remain in public office during this time? And why do we consistently doubt the personal accounts of those who have the courage to come forward?
The answers lie in our society's collective inability to address the prevalence and stigma of child sexual abuse. It's a topic few individuals want to discuss. As a result, incidents remain severely underreported and prevention is under-prioritized.
How prevalent is child sexual abuse? Our nonprofit organization, Darkness to Light, estimates that at least one in 10 children are victims before they turn 18. The National Children's Alliance reports that nearly 70 percent of the more than 311,000 children served at child-advocacy centers across the country in 2015 disclosed sexual abuse. And more than 90 percent of children who disclose their abuse indicate the abuser is someone they and their families know well, directly contradicting the "stranger danger" fallacy. Furthermore, the effects of abuse last a lifetime, costing U.S. taxpayers an estimated $210,000 over the course of just one survivor's lifetime.
Eventually, these children grow up, and the misplaced shame many feel about being victimized in such an intimate way often deters the majority from speaking out and holding their perpetrators accountable. Add fear of reporting and a lack of basic prevention education, and we unsurprisingly continue to see story after story where survivors report an individual for crimes that were committed years ago. It's a cycle that enables abusers to groom communities and inflict harm on others for decades.
Statistically speaking, the likelihood that anyone would lie about being the victim of sexual abuse, as the former Seattle mayor tried to imply, is extremely rare — less than 8 percent — of which most are related to tumultuous custody disputes.
This is why we, society, must do everything we can to listen when survivors come forward. We must tell them we believe them and take responsible action to support them. We must pursue every option available to help them find peace from the terror and fear they've experienced — in addition to taking swift legal action to bring the perpetrators to justice.
Unfortunately, while society outwardly agrees with these premises, historically our collective response to these narratives seldom unfold this way. And unless we change our current social perceptions about abuse, it won't happen the next time a report of a similar crime is filed against a prominent figure.
But we have the power to change that. It does not have to happen again this way — regardless of who the abuser is, the position they may hold in our local communities, or how seemingly powerful they may appear to be.
The stigma associated with this uncomfortable topic is precisely what needs to be shattered. It can be done. Through education and awareness, it is possible to reduce stigma, foster open dialogue, and empower adults to access the tools necessary to protect each child's right to a safe and healthy childhood.
Prevention education, coupled with society's commitment to change and tackle this silent epidemic, is the only way to protect children. We can't afford to wait for the next case to break. We must confront this now, together.
Our children will thank us later.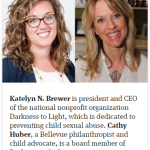 Katelyn N. Brewer
Cathy Huber