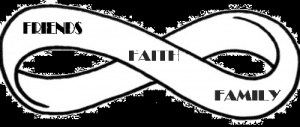 Bridget Bland was born and raised in Northern California. She remembers how much growing up felt like being in two separate, yet complete worlds. Bridget always  had trouble finding a  consistent  place to call "home".  Bridget's parents divorced when she was still a toddler, for her, divorced parents meant being "divided" in her eyes. At an early age, Bridget's life became so much about pleasing others, that for a very long time she lost herself in the process. She couldn't seem to find her own interests, or have her own opinions, and eventually it took a huge toll on her physically and emotionally.
Tragically, Bridget was a teenager when she lost her father. At the time, the loss was the biggest heartache and hardship Bridget ever had to face. Bridget kept  her faith and found positive outlets to keep her moving forward in life. Even though Bridget's entire world was flipped upside down, it made her into the young woman she is today. Bridget has found not having  her father around has given her the opportunity to grow up in a different light than others with fathers, which has shown her positive leaps and bounds in all aspects of her life.
As a young adult, Bridget has found joining any capacity of the" the work force" to be a big step in the right direction in her long avoidance towards "fitting in" with society's norm.  In the her younger years, occupations seemed to just come and go, with nothing  lifting her from her disappointments. Bridget eventually learned to always find the lesson or take away from each experience, and press on. At the beginning, being back in the public eye was far from easy  for Bridget, but blessings started to manifest quickly as she got more comfortable in her own skin.
Bridget has met some amazing people along the way, giving her back her purpose which she thought was forgotten. These divine appointments, as she calls them, have helped her remember who she was and how she is so worthy of all the goodness that still surrounds her constantly on a daily basis. This very few handful of people helped her find herself and believe in herself again. To pay them back is to simply love and live life to the fullest every single day!
Bridget's future plan is to inspire others, the way she has been inspired by those, who she has come in contact with. To be that same bright light and pay it forward!
"To Know Even One Life Has Breathed Easier Because You Have Lived, This Is To Have Succeeded."– Ralph Waldo Emerson