Originally published in the Daily Republic on January 7, 2017.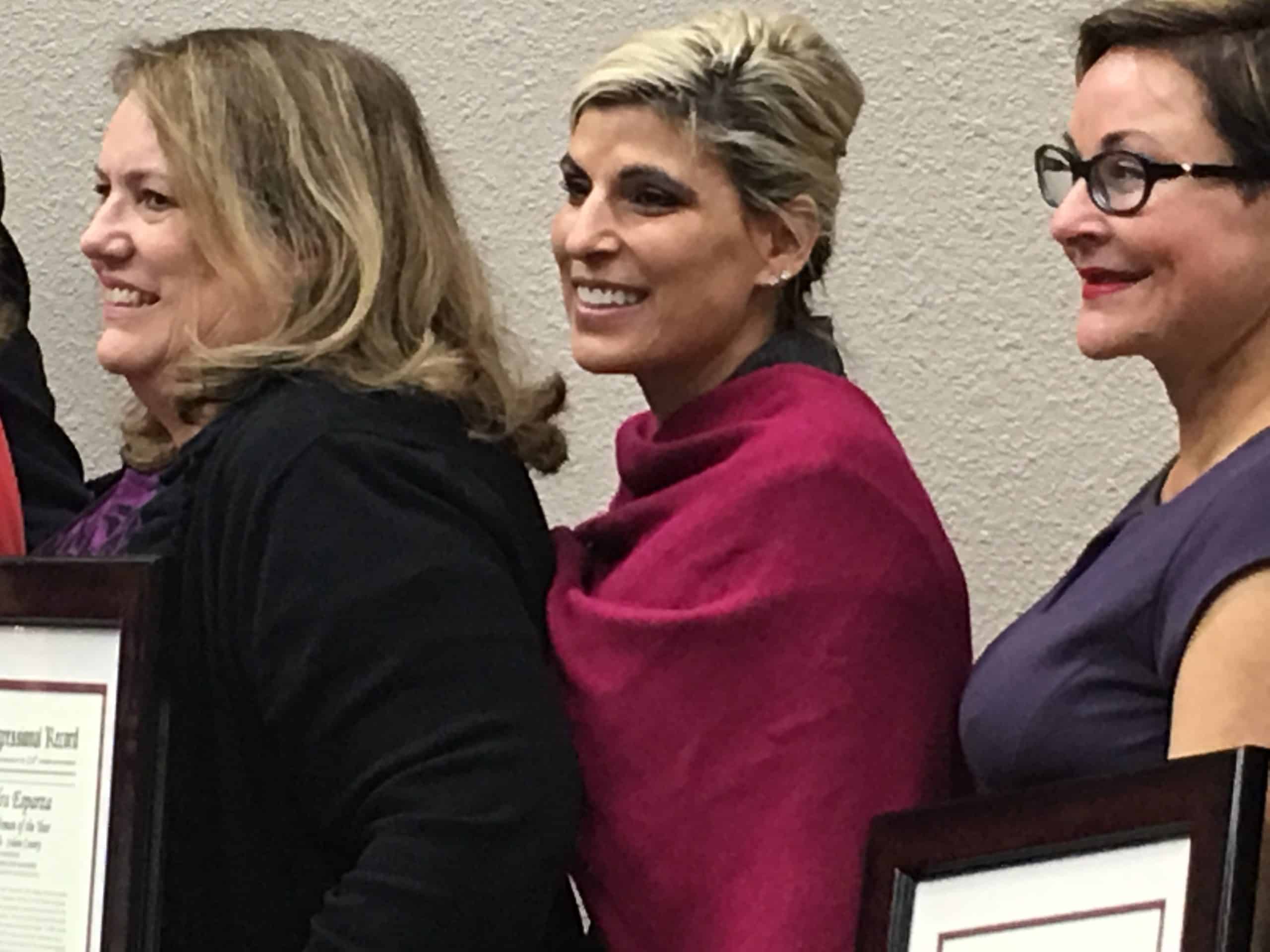 Local women from around the area were honored this year at Congressman John Garamendi's Women of the Year ceremony on Oct. 13 in Woodland with a luncheon and round table discussion of issues facing women today in the workplace.
Those honored included 19 women from Solano County who were nominated by their peers. They included:
Dixon
Patricia "Cookie" Powell has dedicated her life to serving the less fortunate in her community. As the Executive Director of Dixon Family Services, she has worked to enhance the services and housing opportunities available to those in need, and under her leadership, the organization received recognition from the Solano County Board of Supervisors.
She played an active in role improving her children's school and extracurricular environments by working to bring health education to teens, serving as a member of the school site council and parents' association and sitting on the boards for the school's girls' softball and youth football teams. She has also donated her time to Meals on Wheels, the local Chamber of Commerce, Northern Solano CalWORKs, the Solano County EBT Transition Committee, the Solano Transportation Authority and her community's Alcohol, Tobacco and Other Drugs prevention teams.
Powell played a leading role in the formation of both the Dixon Advocates for Children organization and the Advocates for Dixon Seniors organization. She also helped the Dixon Teen Center achieve nonprofit status and played a major role in opening the Dixon Family Services Thrift Store. Today, she remains highly involved in the "Yes on Kids" initiative to provide for all of Solano County's children.
Linda Hickman, for the past 50 years, has worked with community members, benefactors and local organizations to provide gifts and clothes to tens of thousands of underprivileged families and children. She is an original member of the Dixon Toys for Tots Community Christmas Program and the founder of the successful "Coats for Kids." She founded the Dixon Little League and the Dixon Girl's Softball League. Over the years, Hickman has kept close ties to these organizations, serving in many different capacities from Board member to team coach. As her two sons joined Little League and participated in after-school programs, so did Hickman, volunteering her time to Future Farmers of America, 4-H, and many others.
Fairfield
Yvonne Robbins is a dedicated member of several organizations throughout Solano County. Through programs at St. Stephen Christian Methodist Episcopal Church, she prepares and distributes food to the elderly and disabled, and mentors students in the community. She is a lifelong member of the Alpha Kappa Alpha Sorority, which supports community education programs, and the Delta Kappa Gamma International Society, whose goals are to uplift and support the education of all women. Robbins also serves as the treasurer for Church Women United, a movement which celebrates unity in diversity, and works for a world of peace and justice.
She understands the importance of education, spending 37 years as a teacher in the Fairfield-Suisun Unified School District. In her retirement, she continues to be involved in education advocacy, donating scholarships to the Assist-A-Grad Scholarship Foundation and joining the California Retired Teachers Association.
Sandy Person relocated to Solano County from San Diego in 1987 after graduating from National University. After an early career in real estate, she became an instructor with City College of Chicago teaching military service members in the Programs for Afloat College Education (PACE) Program. Since 1999, through her work on the Solano County Economic Development Corporation and now as its president, Person has put her region on the map to attract countless new industries and create hundreds of jobs in the district. As the former Chairperson of the Travis Regional Armed Forces Committee and the current Civic Leader community representative to the Commander of Air Mobility Command, Person continues to be a fierce advocate for all issues concerning the mission of Travis Air Force Base.
Kay Green's creative drive for betterment has led her to enhance the retirement community she calls home by projects to promote art in public spaces. She also launched an initiative to place hummingbird feeders outside the windows of less mobile residents so that they too can find joy in nature. She also began a tradition of placing a lit Christmas tree outside the dining room of the dementia wing during the holidays for those residents to enjoy. Green is a leader within her community through the educational Garden Group she formed, her work as the Chairperson of the Bocce Committee, and her time volunteering to call Bingo in the skilled nursing wing.
Tara Dacus recognized the need for a scholarship program and brought together the community in order to provide opportunities to underprivileged students. As president of the Fairfield-Suisun Rotary Club, she established the Rotary Success Scholarship and Rotary 4-Way Test Good Citizenship Award program. She solicited the financial, operational and personal support needed in order to ensure success. Both programs provide support, mentorship and recognition for the outstanding young people of the community. These programs and been extremely successful and as a result were featured at the April 2016 Rotary Conference as a model for implementing similar programs throughout the district. The scholarships awarded through these programs have helped students who show outstanding character, determination, and leadership. Since the Rotary Success Scholarship's founding, 13 students have been offered scholarships to Solano Community College. The award includes free tuition, books, meal passes and a laptop.
Rebecca Belk works for the Fairfield Police Department supervising the Personnel and Training Unit. She is responsible for recruiting, hiring and training qualified law enforcement officers. She is also a Peer Support Team member as well as supervisor of the Crisis Negotiation Team, playing an important role in protecting her community. Over the course of her career, Belk investigated crimes against children, demonstrating her dedication to protecting and caring for children.
Helen Andrews and her husband were selected into the Honorary Commander Program at Travis Air Force Base in 2009. Since that time, Helen has virtually adopted the Travis Airmen's Council, also known as Airmen Committed to Excellence or ACE. In this capacity, she has been personally committed to helping develop these young service members as future leaders by opening her home and hosting executive council meetings and leadership planning forums. Andrews has provided a home-away-from-home to hundreds of airmen by hosting large, camaraderie-building events including barbecues, overnight camp-outs and holiday celebrations. She also hosts military spouse groups to help recognize the sacrifices made by the spouses and families of our military members.
Keetra Welling is a member of the North Bay Stand Down Committee and serves as both the Military Liaison and the Logistics Coordinator. Since 2010, she has organized ongoing fundraising events to support the Stand Down and has been instrumental in helping coordinate organizations, community members and local leaders in support of the Stand Down. Her role as Operations Manager of Community Action North Bay further exemplifies her commitment to veterans and non-veterans alike. Through her work with this organization, she helps provide supportive housing and rapid re-housing services to those in need. Each year, Welling's services help more than 150 families and individuals out of homelessness through her inherent ability to build trust and motivate those around her.
She created a partnership with both the Vacaville and Fairfield Police Departments in connecting recently released inmates with basic services of food and shelter. She has been a vocal advocate for both the City of Vacaville and City of Fairfield's Homeless Outreach Teams and works proactively with the Solano County Veterans' Treatment Court as a volunteer. She works with the local food pantry to help serve more than 1,500 families monthly.
Rosalind Young began her public service as a San Francisco police officer, and after her career as a police officer was cut short due to an on-duty injury, Rosalind continued to serve our most vulnerable youth through our education system. She volunteered as a Commissioner for the Solano County Juvenile Justice Delinquency Prevention Commission, where she created partnerships with at-risk youths and their families to determine how to best serve those at the Solano County Youth Facility. While Young was working full-time with the Vallejo City Unified School District as a Student Attendance Review Worker, she facilitated several "Parent Project" classes for parents, knowing that an educated student can overcome the disadvantages of their socioeconomic background. With this in mind, she conducted home visits to truant students and worked with parents to ensure their children were able to get to school. For more than 26 years, Young has been a member of the Delta Sigma Theta Sorority, taking many leadership roles in committees, helping raise $90,000 for college scholarships, mentor young women and build partnerships with local youth advocacy organizations.
Vacaville
Estella San Juan, as an Army veteran, used her GI bill towards her college education and earned her Masters Degree in Education. San Juan serves on the Assist-A-Grad committee which helps raise funds and select high achieving high school students for scholarship assistance. Through her leadership in the church, Estella worked to provide hot meals for homeless men, women and children in the community, and continues to support the needy with her involvement in the Meals-on-Wheels program. San Juan was recognized as Teacher of the Year twice. Her students knew her as the teacher that truly cared about them and she would often sacrifice the little money she had to buy those most needy children clothing and bicycles. When she officially retired from teaching, she became an elementary school substitute teacher until the age of 80 when her hearing began to fail.
Carol Pruett serves as the Chief Administrator of the Dixon Chamber of Commerce. She serves as the Ambassador of Dixon to all levels of local government, and her tireless community involvement is central to executing the Dixon May Fair, Dixon Rotary International activities and countless other community and family focused events. Pruett coordinates, advertises, solicits donations and promotes the Dixon's top fundraiser, the Epicurean Fete, which funds the Dixon May Fair each year. She has also served as Chairperson of the Dixon Relay for Life for three years where she raised record amounts of money for the Cancer Society. Pruett was also honored to be selected as a key civil leader and named to be an Honorary Commander for Travis Air Force Base where she has forged stronger ties between the Dixon community and the Air Force Base. She is also a member of the Travis Regional Armed Forces Committee and has coordinated the Band of the Golden West Concert in Dixon for the past two years.
Laura Petty has dedicated her life to making the justice system more equitable. She graduated from both undergraduate and law school with highest honors, earning her the J. Lani Bader Award for academic excellence from the Golden Gate University School of Law. While in law school, she also earned several prestigious internships and volunteered for Project Open Hand, delivering meals to homebound HIV/AIDS patients. She is a founding partner in her law firm and has dedicated her legal career to making the legal system accessible for children and the socially disadvantaged. Petty is the current Parliamentarian for the Solano County Central Democratic Committee, and a member of the Northern Solano Democratic Club. She also served on the Board of Directors for the Vacaville Public Education Foundation and the Vacaville Unified School District Measure A Citizens' Oversight Committee
Julia Lopez is a skilled fundraiser who generously uses her talent to serve many nonprofit organizations. She raised funds for the Dixon Teen Center, Dixon Family Services, Vacaville's Opportunity House and the Solano Midnight Sun Breast Cancer Foundation. She also started an annual Adopt-a-Family Christmas program to provide extra help through holidays for Solano County families in need. She is an 18-year member and former president of the Dixon Rotary Club. She serves as the Vice President on the Board of Directors for the Dixon Teen Center, and also serves on the Board of Directors for Court Appointed Special Advocates for foster children and other at-risk youth in Solano County.
Dilenna Harris has made her mark through her public service on the Vacaville City Council and in the private sector. Before being elected to the City Council in 2008, Harris was a founding partner in an alternative energy company, and later became CEO of a residential and light commercial corporation. She ran the company for 20 years before selling it and turning her attention to the nonprofit sector, where she served as a Development Director and later as Director of Community Relations. She is the immediate past Chairperson of the Travis Regional Armed Forces Committee and also serves on the Travis Community Consortium, where she works to strengthen community support for the mission at Travis Air Force Base. She is an appointee to the Select Committee for City/School Relations, and serves on the Solano County Economic Development Corporation and the Board of the Vacaville Chamber.
Sandra Esparza is a former president of the Solano County Soroptomist Club, helping advance programs that support women and girls of all ages. As a chairperson for the Live Your Dreams program, she continually sought out the young women participants to ensure they were assisted by the club in their aspirations of furthering their education. Her work in the Soroptomist Club under multiple positions has given these young women a mentor and friend to admire. In 2009, she started a Relay for Life team that has raised $159,101 to date, second in the community only to Genentech. As member of the Solano Leadership Council for Relay for Life, Esparza meets regularly with volunteers and coordinators to help plan volunteer recognition, build volunteer capacity and promote events in the community. Upon the tragedy of losing her oldest brother to cancer, she began the Stan Foster Memorial Golf Tournament in his name. Every year, the tournament's committee selects one member from the community who is facing a particular hardship to receive help. The tournament creates a support network for that individual and upon conclusion of the tournament, 100 percent of the proceeds are given to the recipient or their family to help however it is needed. To date, the tournament has helped 23 local community members and families.
Rosario Burton donates her time and talent to the David Grant Medical Center at Travis Air Force Base providing counseling and comfort to patients in need. Rosario earned both a graduate degree in Clinical Psychology and a doctorate in Addiction Counseling. Although she is a retired mental health provider, she is an active member of the National Board of Addiction Examiners and donates her time providing counseling at David Grant. She has received a Certificate of Appreciation for her work at Travis Air Force Base as well as a commemorative coin from President Obama for her selfless dedication serving the men and women at Travis Air Force Base.
Nicole Braddock serves her community through both her work as the Executive Director of the Solano Land Trust and her volunteer efforts with local children. Her works at the Solano Land Trust helped the organization earn the National Land Trust Alliance Accreditation Award, raise more than $20 million for conservation and acquire the 1,500 acre Rockville Trails Preserve. Nicole also helped establish the Napa County Parks and Open Space District, serves on the advisory committee for the Bay Area Open Space Council and is a member of the management team for the San Francisco Bay National Estuarine Research Reserve.
Braddock is a recognized expert in land conservation, and routinely shares her extensive knowledge regionally, statewide and nationally through panels, workshops and conferences. She also volunteers her time outside of work, helping Cub Scouts earn their Wildlife Conservation Achievements, maintaining trails at the Solano Lake Boy Scout summer camp, and helping support families in need during the holidays. She also organized members of the community to assist with relief efforts in areas of Lake County impacted by wildfires.
Christina Baird is an advocate for children, donating her time and efforts to many non-profit organizations that serve children and their families. Baird was appointed by the mayor to serve on the Vacaville Community Services Commission. She is acting president of the Optimist Club of Solano County, sits on the board for the Solano Partnership Against Violence and volunteers with the Solano County Office of Education's Career Technical Education program for high school students. She also helps the Stewards of Children by facilitating their "Darkness to Light" program, which trains members of the community on how to help prevent child abuse. Baird has also served as an ambassador for her local Chambers of Commerce and was awarded the KI Jones Award for service to the Chamber.