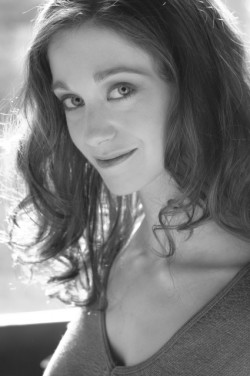 Amy Oestreicher IN Gutless & Grateful Lost a Stomach, Gained a Story
February 5th and March 26th, 2017
AT Metropolitan Room, NYC, INTERNATIONALLY ACCLAIMED JAZZ & CABARET
Following sold-out runs at The Triad NYC, The Bijou Theatre, United Solo Festival, Barrington Stage Company (Tony-Award winning William Finn's Cabaret Series) and a nationwide tour from Washington D.C. to Hawaii, the captivating Amy Oestreicher will bring her hit one-woman musical Gutless & Grateful back to NYC at the internationally acclaimed Metropolitan Room on February 5th and March 26th at 7pm, 2017. Through interwoven song and dialogue, performer Amy Oestreicher shares a primal piece of live-storytelling – weaving her near death experience and inspiring perspective with an eclectic set of songs, hilariously highlighting struggles, triumphs and "beautiful detours" in her life.
"Gutless & Grateful is not a story about a victim, but one of a survivor. Amy has channeled the pain of her experiences into something far greater." – Michelle Alerte (Woman Around Town)
Nominated for "Best Theatre Debut" in 2012 (Broadway World), and Bistro Awards Top Pick, and featured in Huffington Post, Gutless & Grateful, takes audiences on a musical journey of determination, grit and "guts" as Oestreicher shares her humor, her strength, and her soaring vocals with the world. Oestreicher's script was inspired by the thousands of journal entries she kept over the six years she endured unable to eat a morsel of food or drink a drop of liquid. Co-conceived by Oestreicher and musical director David Brunetti, the show is directed by Broadway-veteran Jerold Goldstein, also on piano. "Gutless" also features the song "Still Alive" which was written for Amy by acclaimed composer David Friedman with lyrics by TV personality and lyricist Kathie Lee Gifford, after she appeared on NBC's TODAY Show in 2011.
"One part moving testament to human indomitability, the other a thoroughly satisfying evening of song. While each element is strong enough to stand on its own, combined they illuminate and enhance each other. Rarely have I seen narration and song so artfully meshed, and Oestreicher's likeability, good humor, interpretive skill, and manifest commitment to what she is saying and singing make us not only understand her story, but also feel it on a very deep level."
-Roy Sander (critic for BistroAwards.com)
Amy had ambitious plans for Broadway, until she abruptly developed a blood clot the week before her high school senior prom. After being rushed to the hospital, her stomach exploded in the operating room, and after both her lungs collapsed, she nearly died. After waking up from a coma several months later, she was told she no longer had a stomach, and it was unknown whether she would ever be able to eat or drink again . After 27 surgeries and six of the past ten years unable to drink a drop of fluid, Amy's digestive system was miraculously reconstructed and she learned that the human spirit heals through "gutsiness", gratitude, and an overabundance of humor.
Amy Oestreicher is an artist, author, speaker for RAINN and TEDx, writer for The Huffington Post, award-winning health advocate, actress and playwright, eagerly sharing the lessons learned from a decade of trauma through her writing, performance, art and speaking. Amy's story and show have appeared on the TODAY Show, CBS, WNBC Cosmopolitan, Seventeen Magazine, Unmistakable Creative, Good Housekeeping, among others, and her writings have appeared in over 70 notable lifestyle, wellness, and arts publications. Amy's "beautiful detour" inspired her to create the #LoveMyDetour movement, a campaign inspiring people to flourish because of, rather than in spite of challenges- also the subject of her '16 TEDx Talk and upcoming book, My Beautiful Detour. Oestreicher will also be giving another TEDx Talk this February in Virginia.
"Oestreicher's story is always inspirational and surprisingly funny." – Paulanne Simmons (Times Square
Chronicles)
Come for a moving night of song, stories and possibilities, all in a 70-minute musical comedy. Gutless & Grateful is no ordinary one-woman show, but a powerhouse production that leaves the audience in tears, laughing hysterically, and savoring every last bite as though it were their very first.
Amy Oestreicher in Gutless & Grateful plays the Metropolitan Room on 34 W 22nd St, New York, NY 10010,February 5th and March 26th, , both Sundays at 7pm. Doors open 30 minutes beforehand.
Tickets start at $24 and there is a two drink minimum.. Tickets and information are available at amyoes.com/metroom and at http://metropolitanroom.com/event.cfm?id=239500 or by calling (212) 206-0440
For more information on Oestreicher's unique story and highly esteemed show, visit www.amyoes.com.