Originally published on JayDelRay.com on April 16, 2015 By Jay Del Ray.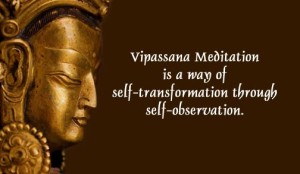 In 2010, on my way to moving to Byron Bay for a time, I decided to spend 10 days at a silent meditation retreat in the Blue Mountains, Sydney. Here is the blog that I wrote of my profound and life changing experience immersing myself in meditation …
"Liberation can be gained only by practice, never by mere discussion," SN Goenka has said. A course in Vipassana meditation is an opportunity to take concrete steps towards liberation. In such a course the participant learns how to free the mind of the tensions and prejudices that distrub the flow of daily life. By doing so one begins to discover how to live each moment peacefully, productively, happily. At the same time one starts progressing towards the highest goal to which mankind can aspire: purity of mind, freedom from all suffering and full enlightenment.
It is now a week since I left the beautiful surrounds of Blackheath, Blue Mountains where I attended a 10 day silent meditation retreat to practice the 2500 year old Indian meditation technique known as Vipassana. I first heard about Vipassana some months previous whilst talking to a friend who suggested I attend, she had known of a few people who had gone on this retreat who had gained much insight and clarity into themselves and felt sure that it would be most beneficial for me to attend – she also assured me that I would definitely, at some point, want to leave! Being someone who loves a challenge, I was up for the experience and wanted to sign up – but a few things needed to happen first.
The next few months proved to be extremely difficult for me. I had made a decision to rent out my house, leave primary care of my children to their dad and move to Byron Bay, in northern NSW, some 8 hours drive north of Newcastle to seek my life's purpose. This decision came after visiting Byron in September 2009. I had a very strong feeling that this was somewhere I needed to be and although at the time I felt it could not be possible, in November 2009 I made the firm decision that this was where I had to go, no matter what! After a brief visit in December I returned to Byron Bay again in early February to meet up with my new housemates and to get a feeling for the area. It was on this visit that I knew I was on the right track. I had such a feeling of being home and peacefulness embraced me as soon as I landed on Byron's soil. The energy of this town can be felt as soon as you are here. The locals describe it as being in the "Byron Bay Bubble". Life slows down and you move at a very different pace. You feel very different on many levels here. It is a town built on Black Obsidian rock – its power lies in its ability to absorb and transform negative energies, thereby acting as a protective stone. Ultimately, it brings about solid comfort, through truth and peace. The Aboriginals say it is a place where you come to heal and then you are meant to leave – hmmm, I'm healed, but I wonder if I will ever leave.
On my return to Newcastle to pack up the last of my house, I'm due to head back to Byron Bay but feel the calling to kick start the next chapter of my life with a 10 day stint at a meditation retreat. 10 February 2010 I arrive at the doors of the Vipassana Meditation Centre in the Blue Mountains. I have butterflies in my tummy. I'm more nervous about sleeping in my tent as there is heavy rain predicted and the area has just experienced 2 weeks of downpour so I'm worrying that I'm going to be cold, wet and get no sleep being out in the elements. I've forgotten about the silence and the meditation at this point, just give me a bed!!! Thankfully, I do manage to manifest myself a bed in a dorm room with 9 other girls. This so takes me back to the school camping trips – without the talking of course.
There are clearly people that have done this before starting to arrive with their luggage. They have this calm, relaxed looked about them. Others are clearly out of their comfort zone and me, I sit and observe and await further directions, relieved that I have a nice cossie bed to sleep in and eager to get started. I notice a very tall girl arrive and I instantly feel a rapport, even though we have not yet spoken. We end up speaking and I find out she is one who has been here before – she's known as an 'old student'. I'm grateful, I want to know so much before the lips are sealed for 10 days!. "So is it good?"I ask. Her big brown Serbian eyes nearly pop out of her sockets! "Oh Yes – it's amazing!!!!" I was relieved, this is what I wanted to hear. I felt like I wanted to talk to her for hours yet we were both well aware that shortly we would be stepping into Noble Silence and that would be it for the next 10 days – we talked very fast and I felt reassured that at least I had connected with someone who had experienced this and she seemed quite together, high spirited and happy, how hard can it be I thought and if the end result is that, bring it on!
After meeting with a few others and sharing conversations over a cup of tea, the bell is sounded – this is a sound we would all grow very accustomed to hearing over the next 10 days. We are all lead up to the meditation hall for further instructions. It is early evening and everything feels different yet ok, even sleeping in the dorm felt ok, the no talking at dinner was weird yet it was a new experience and I was open so I felt pretty good, at this stage! Off to bed in silence we go ready for the first day of meditation. I'm very excited and can't wait to get going!
Day 1 commences at 4am and I spring out of bed and head for the showers. I had no problem getting out of bed at this time and was always eager to start the day – I wanted to learn and get this technique down pat and get to that great feeling that I'm assuming everyone gets to at around day 7, 8, 9 or 10. I don't remember where I got that from but I'm assuming this is how it works. Day 2 and Day 6 are meant to be the difficult days and then it's bliss – so basically I'm prepared for a few crap days and then it's all going to be peachy! Ok, let's get to peachy quickly can we please !!!!
So I'm thinking at the beginning this is so like school camp, cool! I decide the first morning to meditate in my room – 2 hours of observing the breath going in and going out of the nostrils – I find it difficult as my mind keeps wandering here, there and everywhere, there is no silence in my head, outside – peaceful, in my head – it's going nuts! When is breakfast? What am I doing here? I wonder what that girl does for a living? Wonder what her issues are? My toe nails need another coat of varnish, oh damn, I left my tweezers at home. No phone, that's nice. I like it here, truly, it's beautiful – I was so ready for a rest after all that packing up of my house – bla bla bla bla …
The food – oh my goodness – I have not eaten this well in MONTHS! Start the morning with warm oats, which is so nice as it's rather chilly in the mountains in the morning … stewed prunes , nuts and seeds with yoghurt and fruit. Oh I feel I have died and gone to heaven! Beautiful breads with all the spreads you can imagine and tea on tap! All you can hear is the tapping of the spoons on the bowls and the stirring of the teaspoons in the cups – we do not speak, we do not look at each other, heads down or heads looking straight ahead at the amazing view from the balcony of the food hall – mountains and valleys and a sky that is forever changing – you could never get bored looking at this scenery – exquisite.
After breakfast we have a little break. Some go for a lie down on their beds after the shock of getting up at 4am, or we can take a walk around our designated female walking area. Males and females are segregated so as to not distract each other. You are asked to dress conservatively, no knees showing and no shoulders, this took a bit of wardrobe planning on my part. I tend to have lots of bits showing so dressing conservatively was a bit of a challenge. Not even leggings are allowed! I do find one male particularly distracting as he, for some reason, is allowed to wear a muscleman t-shirt in the meditation hall. Can't get my eyeballs off his very nice arms – stop it, stop it, focus focus. I discover later that I'm not the only female to be distracted by his flesh : )
Another 3 hours of meditation awaits before lunch … hmmm, I wonder what is for lunch, as this is our last meal of the day, I can't stop thinking about it. At 8am the bell sounds. There are 3 meditations per day where we are asked to attend the hall together for "strong determination" meditation. After experiencing the meditations in the hall I decide that that is where I will meditate everyday from now on and not in my room as I will work seriously in the hall and the energy is lovely and peaceful, feel like I'm really working. There was also this very distinct smell, like sawdust and honey. I found out later that some students hated it, I LOVED it and couldn't get enough. Sniffing it up as I got a whiff from time to time. The mind at this stage is still all over the place and the body is starting to feel the agony of being seated in the cross legged position for hours on end. Everyone, except for the older students are wriggling, trying to find their best position, it's difficult – and this is day 1!!!
There are four teachers seated on a raised platform at the front of the hall, 2 females and 2 males. The female teachers are Grace, an elderly lady possibly in her 80's and an Indian lady by the name of Sheila. So still, they exude peace. I want that, I think to myself.
Lunch exceeds expectations and I'm loving it! I have not eaten red meat since this experience and don't know if I ever will again. I've only eaten chicken once since and could quite well do without it also. I believe I've been converted to vegetarianism and it's wonderful I have to say. Feel so much better for it. It's funny observing everyone, checking out how much people have piled on their plates as this is the last full meal of the day. We are informed by our teacher NOT to overeat, make sure we are only ¾ full, always leave a gap, not good to meditate on a full stomach. After a scrumptious lunch we are given an hour free time, chill in our room, go for a walk, that's it. There is nothing else to do. We are not allowed to read, write, exercise, yoga – anything! 1pm we are back in the hall for meditation – 4 hours this afternoon. Of course you can get up and move around after an hour or so or whenever the pain gets that unbearable that you feel you may never be able to unlock yourself from your position and may have to be carted away.
5:00pm cannot come quick enough! Yay tea time. A piece or two of fruit and a cuppa. The older students are only allowed to have a broth made of boiling water, ginger and a teaspoon of honey. I felt very sorry for them as I crunch into my apple and half a banana, a real treat! 6:00pm it's back in the meditation hall for the next 3 hours. Yes, I'm getting it now that we meditate a lot – did I not really take this in when I read the course timetable? At 7:00pm it's teacher's discourse with SN Goenka via video. Mr Goenka is a householder teacher of Vipassana meditation in the tradition of the late Sayagyi U Ba Khin of Burma (Myanmar).
Although Indian by descent, Goenka was born and raised in Burma. While living in Burma he had the good fortune to come into contact with U Ba Khin, and to learn the technique of Vipassana from him. After receiving training from his teacher for fourteen years, Goenka settled in India and began teaching Vipassana in 1969. In a country still sharply divided by differences of caste and religion, the courses offered by Goenka have attracted thousands of people from every part of society. In addition, many people from countries around the world have come to join courses in Vipassana meditation. Goenka has taught tens of thousands of people in more than 300 courses in India and in other countries, East and West. In 1982 he began to appoint assistant teachers to help him to meet the growing demand for courses. Meditation centres have been established under his guidance in India, Canada, the United States, Australia, New Zealand, France, the United Kingdom, Japan, Sri Lanka, Thailand, Burma, Nepal and other countries.
The technique which S.N.Goenka teaches represents a tradition that is traced back to the Buddha. The Buddha never taught a sectarian religion; he taught Dhamma – the way to liberation – which is universal. In the same tradition, Goenka's approach is totally non-sectarian. For this reason, his teaching has a profound appeal to people of all backgrounds, of every religion and no religion, and from every part of the world.
I begin to "crave" discourse every night. Goenka makes me laugh and it now serves as my only outlet!!! Craving, I later learn, brings misery – you miss out on so much when you crave for something that is not in this moment. However at this stage, I think the guy is really funny and on the serious side, his teachings were always profound and all the teachings seemed to just flow and be so right for that moment. I could have listened to him for hours. After discourse there is another 45 minutes of meditation, just when you've just about had it with meditating another hour, your asked to "start again". Can't wait to get into bed, what a long day, I'm stuffed! Thankfully I bring the ear plugs, we have two snorers in the dorm – ear plugs were my saviour : )
Day 2, 4.00am and another day begins and the same ritual applies. I can't quite remember when things started to get to me but I do remember thinking on day 2, gee we have a long way to go. It was this day that I started to notice that a few people were starting to leave. By the end of the course I believe about 7 women left at varying stages, I'm not sure about the men. At this point I didn't get it, you are told so many times when you sign up for this that it is a commitment and it's serious and to leave during the course can be dangerous to ones self. It's 10 days guys, come on, how hard can it be!
Day 3 and Day 4 are pretty much a breeze. I've settled in to the way of life and really like it here – I often recall my friend Julie saying to me "Justine, you are so going to want to leave" and I'm thinking, Julie just so doesn't know me, this is a breeze. I'm starting to get the meditation, my mind is quietening and I'm feeling really quite peaceful, observing the plants, walking slowly and quite chilled. A bit of yoga would be nice but hey, that's ok and even the silence is not bothering me.
Day 4 we begin learning the Vipassana technique and I guess this is where things started to shift for me. This is where we start taking dips in the Ganges of Dhamma within (law of liberation), exploring the truth about ourselves at the level of bodily sensations. Here I was thinking it was just about observing the breath coming in and out of the nostrils and this was going to be it for the next 10 days – I'm excited when things take a turn and we start learning something new and it takes a deeper turn. The whole Vipassana technique we begin to learn is quite scientific and is a process of connecting mind and body. Becoming so in tune with our bodily sensations that when we are triggered by an emotion, we no longer become reactive but remain equanimous, no matter what outside influences may hit us. No craving, no aversion, total balance of mind. The mind then becomes sharper and more sensitive, capable of detecting subtle sensations.
Equanimity becomes the word of the week and becomes the most important part of the practice, along with total awareness of the body and it's sensations. My body is hurting now – a lot. I have a disc degeneration in my neck and interestingly enough, about 2 days prior to attending this retreat, it starts to play up. I can't get in to see my chiropractor before I head to the retreat and wonder how I will cope and will it play up. I am told by Grace that old injuries do tend to flair up during this course and it's the body's way of healing the impurities of mind within – yeah well that's just great – I'm in agony and tears are welling in my eyes. I see Grace during question time and I am reassured that it is just a sensation and it will pass, remain equanimous, persistence and continuous practice are the key – keep doing what you are doing, you are sure to be successful. Oh great, now there are three words of the week that keep going around and around my head, equanimity, persistence and continuity – these words begin to wear on my mind and thus starts the downward spiral …
Day 6 arrives and I'm doing ok until after lunch. Things are starting to bubble to the surface and this is when I want to leave, and yes I can hear Julie saying "I told you so". I am beginning to feel agitated during break times. I do not feel like walking today and go to my room to see if just resting helps. Perhaps if I just sleep my mind will stop. I sit on my bed and begin typing on my bed spread. I pretend that I'm on my laptop updating my Facebook profile, saying something like, yeah well it's day 6 here at the silent retreat and I'm beginning to go nuts and I want out! I start giggling to myself when I realise what I am doing. This is insane! I'm getting really agitated now so I decide to go outside for a walk. The view now has become routine and boring and I feel like breaking the rules somehow. I take myself down to a little spot where there is no one around and feel a song coming on – Kermit the Frog's Rainbow Connection. So here I am singing Kermit's song in a whisper and I feel some relief. Oh that feels wonderful I say to myself – just to sing, even if it's just a whisper. Then a flood of songs enter my head, all weird and wonderful and they take me to places and memories of the past – my mind is entertained and I'm off and racing with an explosion of colour, faces, people, emotions and memories – I've lost myself in the past and right now, it feels good – albeit briefly. I'm starting to get annoyed with everyone around me. They look miserable and they are walking so bloody slow. I go for a power walk, thinking I'm breaking some kind of rule here, it fills me with some sense of satisfaction (oh blessed ego). I rebel against meditation after sitting excrutiatingly for an hour with no success in quietening the mind, and lay on a bench in the sun whilst everyone is in the "zone". Alex, the ladies Manager who I nickname "the Gestapo" has a quiet word to me and I have to leave my nice bench in the sun and get back to meditation. I don't like her at this point and feel like giving her the finger, of course I don't but my mind does. My rebellious nature is in full flight and I'm aware yet somewhat satiated by the sensations it brings.
There are two aspects of the Vipassana technique. The first is breaking the barrier between the conscious and unconscious levels of the mind. Usually the conscious mind knows nothing of what is being experienced by the unconscious. Hidden by this ignorance, reactions keep occurring at the unconscious level; by the time they reach the conscious level, they have become so intense that they easily overpower the mind. With this meditative technique, the entire mass of the mind becomes conscious, aware; the ignorance is removed. The second aspect is equanimity. Where one is aware of all experiences, all sensations, yet does not react, does not crave or feel aversion and therefore does not create misery for oneself. This all starts to make sense and the pieces of the puzzle do start to come together slowly however I'm finding it pretty intense with all these sensations of pain, agitation, boredom etc flooding my existence. There is no escape. I cannot hide in a book, I cannot talk to anyone about it, I cannot write to express and get it out. It's all jammed up in my head and I've never experienced anything like this in my life. There is no escape, nowhere to hide, nothing to distract me, I'm faced with it all and I'm so uncomfortable. I am pacing like a caged lioness. I walk to the border of our designated area and get a taste of what one might feel when one is put in jail, I mean you could hardly call this beautiful place jail, but I'm a prisoner of my mind and I feel like I'm going slightly mad. My only comfort, and it's hard to get to this place when we are not in meditation, is trying to stay present. I know that it works and I have experienced it so with my moments of madness, I try to maintain the stillness, watch an ant, I look at the leaves on the trees blowing in the breeze, watch the birds fly from branch to branch –
momentarily the madness stops.
As we learn in the evening discourses, you come to a course like this to develop your own wisdom. To do that we must understand truth at the experiental level. I am slowly getting it, the pieces are falling into place. So much confusion exists because the way things appear to be is totally different from their real nature. To remove this confusion, we must develop experiential wisdom. Outside the framework of the body, truth cannot be experienced; it can only be intellectualised. Therefore we must develop the ability to experience truth within ourselves, from the most subtlest to the most grossest levels, in order to emerge from all illusions, all bondages.
Everyone knows that the entire universe is constantly changing, but a mere intellectual understanding of this reality will not help. You must experience this within yourself. I know for myself my experience of losing someone close for example forced me to face the hard fact of the impermanence of life, and one then develops wisdom, to see the futility of striving after worldly goods and quarrelling with others. But soon the old habit of egotism reasserts itself and the wisdom fades because it was not based on direct personal experience. I had not experienced the reality of impermanence with myself. Everything is anicca (impermanent, ephemeral, changing) arising and passing in every moment; but the rapidity and continuity of the process creates the illusion of permanence. The only way to break the illusion is to learn to explore within oneself, and to experience the reality of one's own physical and mental structure. This to me explained so much. It hit me so powerfully. I knew it intellectually, now I was on the path to knowing it experientially.
The next 3 days for me (7, 8 and 9) were a rollercoaster of emotions, sensations, feelings, memories, thoughts, frustrations, internal battles, bliss and peacefulness. I had so many experiences over the next few days it really is too difficult for me to recall. It was a jumble of insights, awakenings, confusion, understanding and clarity. The meditations became deeper, some were very deep and I would float out of the hall and feel like I was floating on clouds and no one could hit me and nothing could penetrate my bliss. Other meditations and break times felt like I was tormented by memories of the past mainly and things I had done and said to people that I was regretful for, the decisions I had made by being reactive and unclear and how I got to where I was made so much sense. I started to make a list of all those with whom I wanted to make amends when I got out of "prison", I mean the "retreat". It was not a remorse or total devastation, it was just a clear understanding of so much. I was calm and accepting and forgiveness flooded my heart.
The evening discourses seemed to get deeper as the days went by, everything made so much sense to me. I would catch myself having an internal conversation and see so clearly how the ego operates and the tricks it tries to play to make us believe in the illusions that we create in our mind. I would be off on a tangent and then I would be aware of what was happening and I would just laugh at the absurdity of it all. I was truly tapping into the illusion of self and I saw it so clearly.
As the understanding of anicca (impermanance) develops, another wisdom arises. That of anatta (egoless, no-self), No I, no mine. Within the physical and mental structure, there is nothing that lasts more than a moment, nothing that one can identify as an unchanging self or soul. If something is 'mine', then one must be able to possess it, to control it, but in fact one has no mastery even over one's body; it keeps changing, decaying, regardless of one's wishes. Then the third aspect of wisdom develops: dukkha; suffering. If one tries to possess and hold on to something that is changing beyond one's control, then one is bound to create misery for oneself. It is common for one to identify suffering with unpleasant sensations, but pleasant ones can equally be causes of misery, if one develops attachment to them, because they are equally impermanent. Attachment to what is ephemeral is certain to result in suffering.
When the understanding of anicca, anatta and dukkha is strong, this wisdom will manifest in your daily life, we are taught. Just as you learn to penetrate beyond the apparent reality within, so in external circumstances you will be able to see the ultimate truth. You come out of illusion and live a happy and healthy life.
So with all this understanding and everything starting to make sense and fall into place, Day 9 I'm well and truly over it and I want to talk now. So do others, as I learn on Day 10 when noble silence ends. At lunchtime on day 9 I was overcome with a fit of the giggles as I was observing everyone with their heads down all looking pensive and miserable. Giggles turned into loud laughter and I had tears rolling down my face. Quite honestly, it was like having an amazing orgasim, I was in heaven at the experience of laughter. A few joined in but many were still obeying the strict code of noble silence conduct. I guess rebellion is something that gladly I will retain as part of my playful side J – let's call it my inner child wanting to come out to play!
Day 10 is my birthday and what a birthday present – the end of noble silence! What a special birthday it was – it truly was blissful hearing about others experiences and connecting with people you shared a room for 10 days with but had never spoken to. To see the faces of people light up with smiles and the clarity in people's eyes was incredible. We all felt in awe of what we had all experienced. We laughed a lot! Many fart stories were shared as most of us had not eaten so many prunes, lentils and chickpeas in our lives! We were spoiled rotten with food and were even served with dinner – we all realised after that meal and having to meditate soon after why they did not feed us in the evenings … you should have heard the tummies grumble this night. Discourse was amazing and Goenka rounded it off nicely with his final teachings. There was so much love and bliss that was felt on the last day and I have to say, I still feel the calmness and stillness of mind today. Meditation has been more difficult to practice whilst out in the 'real' world however I know the benefits of being in the space and the freedom one can experience so practice and continuity remain.
What a brilliant way to begin the new chapter of my life. I have found a Vipassana Meditation group to connect with and continue my practice here in beautiful Byron Bay. I'm grateful for the wonderful friends and connections I made whilst in the Blue Mountains. Even though we only really connected on the last day, we experienced the feeling of oneness and unity amongst us.
In closing my story, I would like to say that this HAS to be experienced to get a true understanding of what I have shared with you. I hope I have been able to give you some insight through my introduction to this meditation technique, which I have to say has totally changed the way I now experience life – and is an ongoing practice. I also want to share with you a passage from the Discourse Summaries which for me, was the most powerful realization of all and why I hold this technique and its philosophy in such high regard. They want this teaching to be accessible to all so it is purely by a donation basis. It is amazing how the vibration of gratitude is immediately bestowed upon you. The accommodation, the incredible food (I was in awe of the food), the grounds, the staff, the meditation hall, the teachers, the helpers, it was incredible – all in service to others. I spent thousands of dollars last year on lavish accommodation and personal development courses and programs and I am very grateful for those experiences however for this course to be available to EVERYONE, no matter what financial situation they were in, that blew me away. It has been the most profound experience of my life. It made me feel that this teaching was served with true purity of heart and a loving intention to help change the world in a profound, and simplistic way by helping one person at a time find their true happiness. Awesome.
For more information visit www.Dhamma.org
Charity and Donation – not for profit!
For a lay person, this is the first essential step of Dhamma (natural law, law of liberation). A lay person has the responsibility of earning money by right livelihood, for the support of oneself and of any dependants. But if one generates attachment to the money that one earns, then one develops ego. For this reason, a portion of what one earns must be given for the good of others. If one does this, ego will not develop, since one understands that one earns for one's own benefit and also for the benefit of others. The volition arises to help others in whatever way one can. And one realizes that there can be no great help to others than to help them learn the way out of suffering.
In a course like this, one has a wonderful opportunity to develop this parami (helps to dissolve egoism). Whatever one receives here is donated by another person; there are no charges for room and board, and certainly none for the teaching. In turn one is able to give a donation for the benefit of someone else. Without expecting anything in return, one gives so that others may experience the benefits of Dhamma and may come out of their suffering.
Jay Del Ray @2010