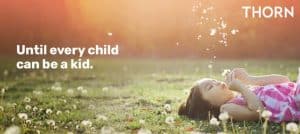 This weekend marks our five year anniversary. Whether you've just joined us, or have been with us since day one: Thank you. Five years in, we continue our promise to all children caught in this invisible emergency. We are as committed as ever, and getting smarter every day — and we won't stop.
To celebrate, we're excited to spend the weekend with over 100 of the sharpest minds from our partners in software engineering, data science, advertising, and creative teams who are headed to NYC to help us push our mission even further.
Check out our new website to see why we're more hopeful than ever. Technology is a powerful tool, we choose to use it for good.