Originally published in The Reporter on October 12, 2017 by Richard Bammer.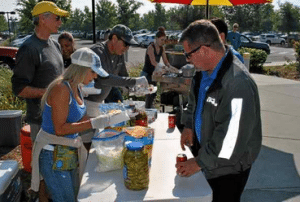 The Reporter As a gesture of appreciation for people on the front lines of the ongoing North Bay firestorms, Christina Baird, a Vacaville businesswoman and Santa Rosa native (at left), serves hot dogs, chips and water Thursday to employees of Santa Rosa's Emergency Operations Center on Stony Point Road in the devastated city, where flames destroyed nearly 3,000 homes early Monday.
A person can, indeed, go home again — despite the title to Thomas Wolfe's 1940 novel — especially if the heart leads the way.
For Christina Baird of Vacaville, the prompt to bring part of her business, Holy Mo's Carts, came not only from a desire to serve others helping to coordinate first-responder services in fire-ravaged Santa Rosa, where she grew up, but also came after hearing a call from a North Bay congressman.
Standing near her shiny metal cart, shaded by a festively expansive red-and-yellow umbrella, the businesswoman detailed what led her to set up a temporary location Thursday at the city's Emergency Operations Center on Stony Point Road, where she and friends handed out free hot dogs, chips and water to anyone who passed by during the lunch hour.
Baird, who also owns a public relations marketing company and serves on the Vacaville Community Services Commission, said Rep. Mike Thompson, D-St. Helena, "reached out" on social media and said the city of Santa Rosa needed help and was "asking all mobile food vendors to step up."
And so she and cart co-owner, Moana Liva, did so after contacting the city of Santa Rosa.
A friendly, petite woman with blond hair, Baird drove to Sonoma County with 100 pounds of hot dogs, Swiss sausages and Louisiana hot links donated by Courage Production of Fairfield, a manufacturer of the meats, the gift worth an estimated $450 from owner Robert Engelhart. Chips, water, buns and condiments came in after an appeal on social media and a notice in The Reporter, she noted.
Before she arrived, Baird had contacted a friend, Steve Hoyt of Moraga, who, in turn, contacted three other Moraga friends, all retired — Bill Hossfeld, Scott Whipp and Lee Geiger — to help serve the free lunch. They were a cheerful presence on and around the serving line.
But it turned out, Baird and Hoyt shared a mutual friendship with Bob Cheal of Santa Rosa, who lost his home as the wind-whipped flames of the so-called Tubbs Fire in the early hours of Monday swept through his Hidden Valley Estates neighborhood.
The Moraga friends banded together to buy Cheal some new clothing, which he gladly and thankfully wore to the center. He said he and his wife fled the inferno on a moment's notice.
"The only thing left of my home is the chimney," said Cheal, who in years past had worked with Baird at an agency that placed seniors in residences. For a man who had lost so much in a few minutes deep into the night, he, like his Moraga friends, struck cheerful notes as he spoke, recounting the shock and horror but also the comfort of familiar faces at his church, First United Methodist, in Santa Rosa, for a time after fleeing. He then decamped to a friends' home in Bennett Valley, which, Wednesday, was under an evacuation advisory, he said.
Cheal's friend Geiger, who seemed at no loss for quips as center employees dropped by for the free food, said, "I don't want to say we're here for him, but we are. We work for hot dogs."
At day's end, Baird said the donated lunch "was the least I could do. I felt sort of helpless for the town I grew up in."
She added, "The people (of Santa Rosa) don't have anything. I can't sleep at night and not think about helping … but one thing I can do is, to make it a little easier for the people who put these fires out."
Baird said some of the center employees and first responders "hadn't eaten for days."
"One person said they were having a peanut butter-and-jelly sandwich after working 12 hours," she recalled, adding of the hot dog lunch, "It may not be the most nutritious meal but it helps with their energy to keep going."
Reach the author at RBammer@TheReporter.com or follow Richard on Twitter: @REBammer.