Originally published in the Daily Republic on September 8, 2017 By Ryan McCarthy.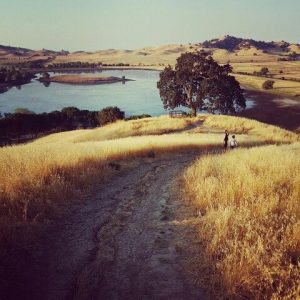 Dr. John Campbell was a 15-year-old working as a lifeguard in the summer of 1958 when three friends went up the hill that separates Vacaville from Lagoon Valley.
The three boys – Joey Kennedy, Steve Jones and Pat Jones – never came back from the trek Campbell couldn't join because of his lifeguard work.
Campbell, who helped search for the missing trio, discovered their bodies underneath an oak tree. The boys had taken saws and shears to cut Manzanita wood on the day a rare summer storm struck, Campbell recounted.
Campbell, 74, a retired dentist in Washington state, spoke Thursday about waiting for hours on the hill until a Jeep could come to take the bodies of the boys.
"It gives you a lot of perspective for the rest of your life," he said of the boys' deaths.
The Vacaville Community Service Commission agreed Wednesday to recommend trail names for Lagoon Valley Park that include "Cappy's Loop," a reference to a favorite horse of one of the boys.
Campbell welcomes the name to remember his friends, as does Vacaville Mayor Len Augustine.
"I'd be pleased to see names like that – to honor them," Augustine said Thursday.
Cappy's Loop is one of 32 proposed trail names the City Council will consider.
Pamela Greaves, chairwoman of the Community Services Commission, spoke at Wednesday's meeting about looking for a perfect name for a baby.
That's close to what the commission did 32 times, Greaves said of the trail names.
"It was a lot of work," she said.
Commissioner Christina Baird said they got a lot of history books and works on flora and fauna.
Other names include Manzanita Trail, referring to the abundant trees in the area, and Verdant Trail, for the lush green foliage surrounding the trail.
Campbell, an avid cyclist, was biking four years ago in Australia when a sudden storm arrived and he emphasized to another bike rider to go to an open area rather than seek shelter under a tree.
The retired dentist said when the Vacaville tragedy occurred in 1958, no grief counselors were assigned to assist people.
"You just worked your way through it," he said.
The deaths of the three boys was an early lesson in the fragility of life, Campbell said.
"I tell my wife all the time – enjoy your life," Campbell said.