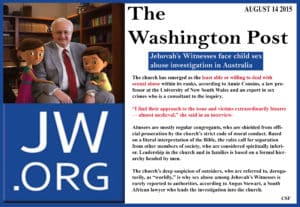 WE THE PEOPLE ASK THE FEDERAL GOVERNMENT TO TELL US WHAT THE FEDERAL GOVERNMENT IS DOING ABOUT AN ISSUE:
Investigate Watchtower Bible and Tract Society for known child sexual abuse within its organization and not reported.
Created by H.C. on August 20, 2017
Save the children! Pass a law to protect children. Watchtower Bible and Tract Society of New York, Jehovah's Witness organization, has been in the Austrailian Royal Commissions investigations and has not turned over 1000 cases of child sexual abuse to the proper authorities. This has happened because of the two witness rule. For an example, if a child comes to an elder to report being improperly touched etc, the elders will have a meeting with the accused and the child. If it's just the child's word against the accused and no other witness, then the case is dismissed. They do not turn it over to the authorities creating a safe haven for Pedophiles and allow them to go door to door of homes with children. WTBTS & it's organization is a danger all children.