Rachel Thompson is represented by literary agent Lisa Hagan, and is published by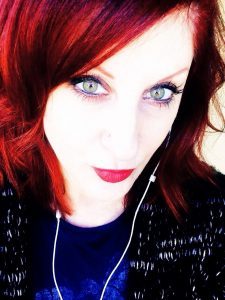 ShadowTeamsNYC.
She released the BadRedhead Media 30-Day Book Marketing Challenge in December, 2016 to rave reviews.
Her first book A Walk In The Snark hit #1 on the Kindle Motherhood list in September, 2011 (do you think they know she talks about sex? Shhh). It's since become a chart mainstay. #woot! She's been nominated for Funniest Blog, Best Humor Writer & Redhead Who Makes A Killer Dirty Martini (okay, she made the last one up, but it's true. Honest).
She released The Mancode: Exposed right after Thanksgiving 2011 and by January, it placed in the Amazon Top 100 Paid!
Her third book, Broken Pieces, is completely different in tone. While still non-fiction, it's not humor at all. She released it Christmas 2012, and it reached #1 on Women's Studies and Gender Studies within two weeks and garnered almost 55 four and five-star reviews in less than eight weeks (none paid, a service she neither supports nor advocates).
In March 2013, The Midwest Book Review gave Broken Pieces five stars, as did two Top 10 Hall of Fame Amazon reviewers. Summer 2013, Broken Pieces won best nonfiction honorable mention from the San Francisco Book Festival, best nonfiction and women's studies from the Global eBook Awards and eFestival of books among other awards. In Winter 2013 Broken Pieces hit #1 on Amazon's Women's Poetry list and continues to rank highly in other Amazon categories.
Rachel released her fourth book, Broken Places, in January, 2015 (via Booktrope). Within one week, her latest release reached the Top Five in Women's Poetry and #1 on Amazon's Hot Releases List. She won Honorable Mentions from both the San Francisco Book Festival in May, 2015 as well as the Los Angeles Book Festival in Memoir and NonFiction.
She courageously confronts the topics of sexual abuse and suicide, love and healing, in her second nonfiction book of prose and poetry (her fourth book overall). Rachel bares her soul in essays, poems and prose, addressing life's most difficult topics with honesty. As you follow one woman's journey through the dark and into the light, you will find yourself forever changed.
"A talented writer with a journalism degree, Thompson adeptly plays with point of view employing both first person singular ("I") to convey her experiences, and first person plural ("We"), perhaps to denote a kinship among survivors."
–Chanticleer Book Reviews
***
'A stellar achievement,'
~ Tracy Riva (Top Amazon Reviewer, Tracy Riva Reviews)
In 2011 Rachel founded BadRedheadMedia where she works with authors; teaching social media, branding, and marketing (skills acquired through eighteen years of successful, award-winning Big Pharma marketing and sales). Connect with her at BadRedheadMedia.com for more about her company.
Advocacy:
Connecting with other survivors of childhood sexual abuse and providing a safe place to discuss our stories has become an unexpected yet vital part of her own recovery. In addition to creating #SexAbuseChat on Twitter (every Tuesday, 6pm pst), Rachel created a secret Facebook group for adult survivors of childhood sexual abuse, and is humbled to share many of her fellow authors' stories on her blog.

In 2016, Rachel teamed up with Dr. Shruti Kapoor to start Speak Our Stories, a blog and social media platform that combines their own advocacy platforms (Sayfty.com and Sex Abuse Chat) to give other survivors the opportunity to use their voice. Each survivor's stories is shared across social media, as well as on Medium, Mogul, and Huffington Post. To read these amazing survivor stories or submit your own, find out more here.

She's been on Twitter since 2009 and finds it a wonderful, fascinating platform to connect with readers, establish a fan base, and gain terrific connections and create long-lasting relationships. In October, 2012, Rachel and family moved north to Northern California, closer to family and friends. Well, that and because her family was tired of her burnt food and Rachel's mom is a great cook. In 2013, Broken Pieces was released for the first time in print, an accomplishment Rachel is very proud of.
Author Contact Information:
Author Site: rachelintheoc.com
BadRedhead Media Site: badredheadmedia.com
Twitter: @RachelintheOC
Twitter (Business): @BadRedheadMedia
SexAbuseChat: @SexAbuseChat
BookMarketingChat: @BkMarketingChat
MondayBlogs: @MondayBlogs
Facebook: https://www.facebook.com/AuthorRachelThompson
Facebook (Business): https://www.facebook.com/BadRedheadMedia
Google+: https://plus.google.com/+RachelThompson/
Pinterest: http://www.pinterest.com/rachelintheoc/
Instagram: https://instagram.com/rachelintheoc/
LinkedIn: http://www.linkedin.com/pub/rachel-thompson/24/784/b95
Goodreads: http://www.goodreads.com/author/show/4619475.Rachel_Thompson
Author Newsletter: http://eepurl.com/j9oaH
BadRedhead Media Newsletter: http://eepurl.com/koN8r
Full-size Author Photo Link: http://i119.photobucket.com/albums/o158/Froze8/RachelThompson_