Originally published in The Vacaville Reporter on December 21, 2016 By Kimberly K. Fu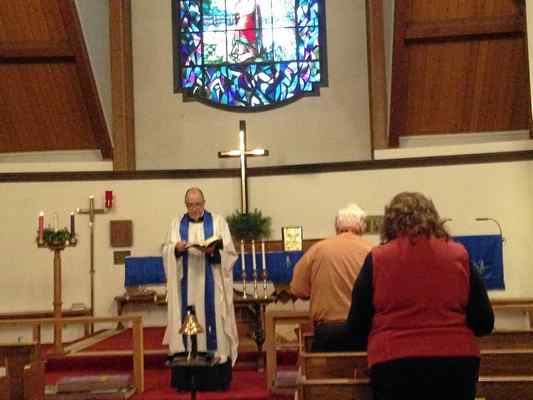 Solemn and yet joyful, Church of the Epiphany's inaugural memorial service for local and national homeless residents Wednesday night brought small handfuls of people together in a big, meaningful way.
With prayers and music and testimony, the country's neediest, most vulnerable citizens were remembered and honored.
Shadowed by candlelight, Father Mack Olson and Deacon Cookie Clark shared grace and humility, speaking to open hearts during this holiday season.
In all, numerous hymns were sung, multiple pauses for reflection taken and eight candles lit in honor of those who have left us.
George Knutson closed the service with "Amazing Grace," his talented fingers making magic on his bagpipes.
Pastor Raleigh Galgan with Valley Church and head of the Navigators program, whose volunteers help homeless residents navigate the system to find aid, called the ceremony beautiful.
He emphasized that, no matter how far off the path we've strayed, "God is in the business of restoring lives," so all have a chance at restoration.
"I'm here as a Navigator," he told the crowd, "To be God's hands and feet, assisting our homeless neighbors … find a better way."
Galgan told Knutson that his music was amazing.
"That was very, very special," he said. "Very meaningful."
Vacaville Community Services Commissioner Christina Baird described the event as an asset to the community.
"It's a positive direction for our neighbors in need," she said. "I didn't know we had anything like this."
For Solano County Supervisor Skip Thomson, this was a learning experience.
"Through Gail (his wife) and Raleigh, I've gotten an education," he said. "There's a number of folks on many fronts doing things, and I'm here to listen and learn and bring back things to the board."
Longtime advocate Patrick Stasio was pleased with the service.
"It was very, very nice. Lovely," he said.
His hope is to get the word out to more homeless clients next year and perhaps bring some mobile resources to them.
"It lets them know that they have people thinking of them and working for them. It gives them hope."
Several homeless residents showed up to the church, but none attended the ceremony. They apparently thought they were only welcome after the event, which wasn't so.
Church officials cooked up chili and pork and beans with sausages, served up hearty portions of breads and cookies, and even passed out cooked hams. It was a festive event that was open to all.
"They appreciate it," assured Stasio, saying clients may not acknowledge that sentiment. "It just gives them some empowerment."
The memorial is a national event held on or around Dec. 21 each year, the first day of winter and the longest night of the year.