Originally published in the Fall/Winter 2016 Issue of PTSD Journal on page 15 By Christine Cissy White.
Men. Soldiers. Brains. I was shocked. I know men get Post Traumatic Stress Disorder.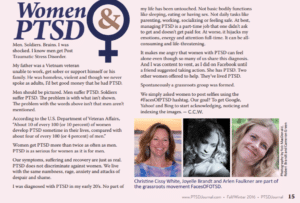 My father was a Vietnam veteran unable to work, get sober or support himself or his family. He was homeless, violent and though we never spoke as adults, I'd bet good money that he had PTSD.
Men should be pictured. Men suffer PTSD. Soldiers suffer PTSD. The problem is with what isn't shown. The problem with the words above isn't that men aren't mentioned.
According to the U.S. Department of Veteran Affairs, "About 10 of every 100 (or 10 percent) of women develop PTSD sometime in their lives, compared with about four of every 100 (or 4 percent) of men."
Women get PTSD more than twice as often as men. PTSD is as serious for women as it is for men.
Our symptoms, suffering and recovery are just as real. PTSD does not discriminate against women. We live with the same numbness, rage, anxiety and attacks of despair and shame.
I was diagnosed with PTSD in my early 20's. No part of my life has been untouched. Not basic bodily functions like sleeping, eating or having sex. Not daily tasks like parenting, working, socializing or feeling safe. At best, managing PTSD is a part-time job that one didn't ask to get and doesn't get paid for. At worse, it hijacks my emotions, energy and attention full-time. It can be all-consuming and life-threatening.
It makes me angry that women with PTSD can feel alone even though so many of us share this diagnosis.
And I was content to vent, as I did on Facebook until a friend suggested taking action. She has PTSD. Two other women offered to help. They've lived PTSD.
Spontaneously a grassroots group was formed.
We simply asked women to post selfies using the #FacesOfPTSD hashtag. Our goal? To get Google,
Yahoo! and Bing to start acknowledging, noticing and indexing the images. – C.C.W