Originally published on Change.Org on September 9, 2016 By Maria Ruiz.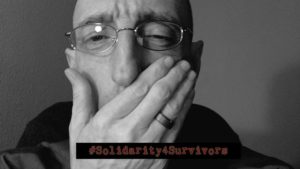 Our Dear friend, Jim Clemente has joined us in our fight and stands in #solidarity4Survivors. Jim is a retired FBI Supervisory Special Agent/Profiler and former Prosecutor for the New York City Law Department. He is a dynamic Public speaker who delivers Keynote Speeches, lectures, and instruction on a variety of topics across the country and around the world. During his 22-year career with the FBI, he has investigated cases from Bank Robberies to Serial Killers. He has also investigated Sex Crimes, Public Corruption, White Collar and Violent Crime and has worked as an undercover agent posing as everything from a street beggar to a Broker on Wall Street.
For over a decade he was an FBI Profiler investigating serial violent and sexual crimes. He is an internationally recognized expert in the fields of Child Sexual Victimization, Sexual Homicide, and Child Abduction. Today he teaches and gives presentations around the world. He also consults on Criminal and Civil cases and does Television Commentary for multiple news and entertainment shows. He is the Technical Adviser and Free-lance Writer for Criminal Minds, Secrets & Lies, and Those Who Kill, and he Produces and is On-Air Talent for several Television productions including Killer Profile and Crime Time.
He is also a survivor of Sexual assault. He shares his story with the world in his book "Without Consent" https://www.amazon.com/dp/B00MI9WQPS/ref=dp-kindle-redirect?_encoding=UTF8&btkr=1
Jim is also currently the FBI profiler for the CBS docu series on JonBenet Ramsey which airs Sept 18 2016. To learn more about this series click below.
http://www.people.com/article/jonbenet-ramsey-cbs-docuseries-clip
Our fundraiser is also halfway to the amount needed for the first round of sit ins. These sit ins will be on October 5 in the office of Christina Garcia and October 7 in the office of Susan Eggman. We still need your donations to make these sit in protests a reality. To donate please click below:
https://www.gofundme.com/ImpeachPersky
Your funds will assist with travel expenses, signs and protest supplies. Both myself and Sharika live a substantial distance from the area of protest, I live in Miami and Sharika lives 5 hours away from LA. Your donations are vital to helping us make these sit ins a reality. We have planned for these protests to continue until the California state assembly begins Impeachment hearings. Please Donate and share!
Love Always!
Maria Ruiz & Sharika Soal
Twitter: @MariaLaMetida
Facebook: https://www.facebook.com/ImpeachPersky/
GoFundMe: https://www.gofundme.com/2mbbgrw
Blog: http://www.silencehelpsnoone.com/
For Press Inquiries contact: Sharika LadySoalPR@gmail.com
Jim also has a podcast where he and Laura Richards discuss behavioral nuances and focus on the victim! Check it out below!
https://soundcloud.com/real-crime-profile