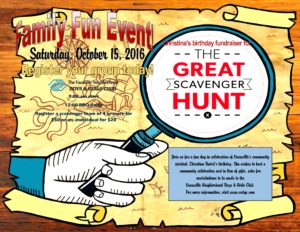 Download Flyer
Dear Community Leaders,
Thank you for supporting me in raising funds for the Vacaville Neighborhood Boys and Girls Club and participating in the city wide Great Scavenger Hunt for my birthday this year. The Great Scavenger Hunt fundraiser is on Saturday, October 15, 2016 from 9:00 a.m. to 12:00 p.m. in Vacaville. Funds raised will be donated to the Vacaville Neighborhood Boys and Girls Club to support their life skills and gang prevention programs. Your generous donations are greatly appreciated.
Sponsoring a location for The Great Scavenger Hunt fundraiser gives local businesses or individuals the opportunity to spotlight their services by having participants visit their locations. Other ways to expose your business is to provide chachkies or snacks in the scavenger survival bags.
I chose the Vacaville Neighborhood Boys & Girls Club because in my youth the Boys & Girls Club of Santa Rosa was my safe haven when times were tumultuous at home. I learned how to play sports, took classes, and made crafts—all of which were not encouraged pursuits at home. I feel our Club here in Vacaville provides the same safe haven to the youth who participate and is such an important asset in our community.
So why is my birthday a big deal? Because I never thought I would have reached this age based on my childhood. Today, I have made it my life work to be of service through accountability and contribution in my communities. I believe the community has the conscious choice to contribute or find avenues that can when presented with adversity or challenges. In addition, I serve on the Vacaville Community Services Commission appointed by the mayor, am acting President of the Optimist Club of Solano County and own a public relations and marketing company, Little Wing Connections. I volunteer my time to SCOE's Virtual enterprise high school programs and facilitate a monthly business luncheon based on accountability and contribution. I am the author of How Far Will I Run, A Memoir and collaborated with other life-empowering survivors, who choose to break the cycle of childhood abuse and contributed to the book, Trigger Points: Abuse Survivors Experiences of Parenting. I am a licensed facilitator for the Darkness to Light, Stewards of Children training on a quest to bring child sexual abuse prevention trainings to her community.
I thank you for taking the time to read about the Great Scavenger Hunt. Please feel free to contact me if you have any questions. I look forward to hearing from you!
Sincerely,
Christina Baird Birthday Girl Cell: 707-738-9962 Email: Christina@littlewingconnections.com
YES, I would like to participate in the Great Scavenger Hunt! Please count me in for:
Register a scavenger team of 4 or more for $50 or an individual for $20
Sponsor a location for $250
Provide chachkies or snack items for the scavenger bags
Online payments can be made by clicking here, https://www.eventbrite.com/myevent?eid=28005220368
PLEASE MAKE SURE TO CLICK ON "CHRISTINA BAIRD'S GREAT SCAVENGER HUNT"  ON THE DROPDOWN "DONATE TO:"