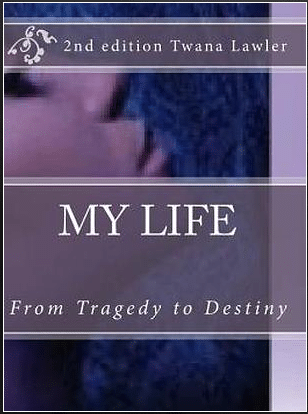 Twana Lawler is a poet, author, playwright, screenwriter, Gospel Songwriter and Motivational Speaker. When her creative juices get to rolling she is on fire. She has written a few plays that went straight to DVD, "Who Did I Marry?" starring Terry Vaughn and Tommy Ford. She also wrote "God's Precious Jewels", Starring Robin Givens and "When A Women's Fed Up". She is also the author of a children's' book entitled, "Kastle Hill Gang" a gang of pre-teens come together to stop things such bullying. She has written a few more things, Liberty of Silence and from "Darkness to His Marvelous Light".
She now has another book to add to the list, "MY LIFE (From Tragedy to Destiny), this is one of her best work. MY LIFE (From Tragedy to Destiny), a contemporary, literary nonfiction, a story of Twana Denise Lawler known to some as Niecy, a proud, intelligent woman whom over the years has added poet, playwright, screenwriter, Professional Songwriter and author to her BIO.
She has overcome many obstacles in life and it is told in this book. From losing her father to suicide, teenage pregnancy, sexual assault and much more and with every punch she became stronger Twana shares her hurts and pain and dealing with a chronic illness in MY LIFE and how after being celibate for ten years she got some horrible news. Writing is her love and desire. Her belief is if one person is touched by her words than she is truly blessed.
My Life
www.mylifeautobiography.com