Originally published on Trigger Points Anthology on November 23, 2015 By Dawn Daum.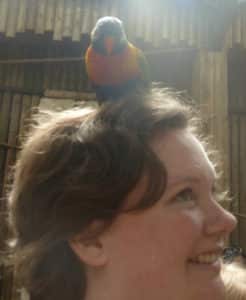 Introducing Trigger Points Contributor Lyndsay Baker, author of Two People.
1.What was the most surprising thing about becoming a parent?
That I wasn't immediately perfect at it!
2.Tell us about one of your proudest parenting moments.
Any time I've kept my temper, and listened to my children when I've wanted to throw a wobbly.
3. Was it difficult for you to participate in this project? What strength did you pull from to get past the fear and contribute?
Writing the essay was the easy part. I wrote it in tears when I was feeling really low, and it all just blurted out onto the page. But when it was accepted, choosing to use my real name was terrifying. I don't want to hurt anyone, I just want the right to express myself and tell my story, but I do know if some family members read it, it would hurt their feelings.
4. Do you believe participating in this project has changed you in any way? If so, how?
It has forced me to stand tall and tell my story. I've made the conscious decision to put it out there, not rub it in anyone's face or anything, but I know if anyone challenged me about what I wrote, or write in the future, I will have the strength to tell them I take none of it back.
5. What is the greatest lesson you have learned from your children?
It's OK to get it wrong, and don't dwell on matters when you do. Just aim to get it right the next time round.
6. When you are not writing or parenting, what do you love to do?
Karate! I want to get my black belt in the next couple of years
Eventually, the adult regains control. I pick everyone back up with grace. I smile at my daughters and agree when my four-year-old paraphrases my own words: 'being bad is just a way of learning how to be good.' She is teaching me, as I know I am teaching her. I identify as the adult; however, the child remains.
Two People
Lyndsay Baker
Trigger Points: Childhood Abuse Survivors Experiences of Parenting
Bio:
Lyndsay splits her time unequally between looking after her kids, writing, and teaching science. She has been writing stories since she was a teenager; this is her first piece of published work, but hopefully not the last as she is working towards finishing a novel about love and mental illness. She lives with her husband, two little daughters and a black spaniel that never stays still long enough to stroke.