Originally published in The Vacaville Reporter on October 5, 2015 By Kimberly Fu.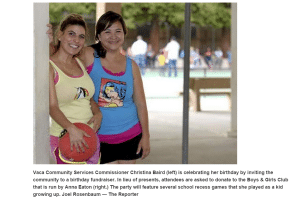 Remember the fun of old school recess breaks, when you'd hang out with friends and play games like Four Square, Dodge Ball, Kick Ball and more?
Relive the magic Oct. 17 at Vacaville resident Christina Baird's birthday party and raise money for the Vacaville Neighborhood Boys & Girls Club at the same time.
The celebration is slated for 11 a.m.-2 p.m. at Vaca Pena Middle School, in the multipurpose room and surrounding fields. Adults are welcome to attend the throwback-themed event — come dressed in a favorite old school workout gear — and in lieu of gifts, make a financial donation to the Boys & Girls Club or bring some school supplies.
"It's going to be so much fun," Baird said.
Baird is a Vacaville community services commissioner, community advocate, author, owner of Little Wing Connections and president of the Optimist Club of Solano County.
Her aim, she said, is to have some fun and support kids, because what could be better?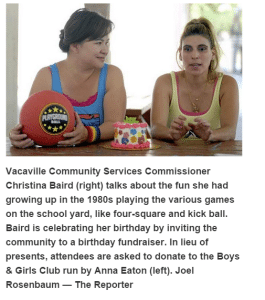 "It's about getting together, spending time together," she explained.
Since turning 40 almost three years ago, Baird has made her birthdays count.
"I didn't have the greatest childhood," she shared. "I didn't think I'd make it to 40."
Baird has talked openly and publicly about being abused as a child. The Santa Rosa Boys & Girls Club, she said, was her refuge, a place she felt safe and where she could escape by exploring creative efforts.
That's why she's uplifting the Boys & Girls Club for her 43rd birthday, having spent previous ones making a gigantic community necklace, ziplining with her son, Christopher, and distributing backpacks to those in need.
"It's a chance to just be free and be a kid," Baird said, of the upcoming event.
Her "Elementary School Recess" party will feature games like a humanized Hungry Hungry Hippo, 80's-themed music, a taco truck and more.
All items donated for the party — like megaphones and balls — also will be donated to the Boys & Girls Club.
For more information, call 738-9962 or email christina@littlewingconnections.com.