BookFest Solano celebrates our passion for books, writers, and libraries. This free-to-the-public festival features an exhibit hall with booksellers, publishers, authors, book-related merchandise, and people with book-crafting and marketing skills showcasing their products and services. Authors and poets will find opportunity to meet and interact, improve their skills, gain knowledge, and promote their work. Workshops, forums, and speakers will celebrate and nurture readers and writers of all ages. From the story time for children to teen activities to a memoir-writing workshop for seniors, there will be something for you.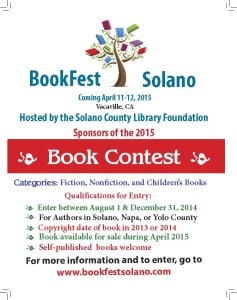 Check out this wonderful event if you are an author, if you love books, or are just looking for a great time.
BookFest Solano, April 11-12, 2015 in Vacaville, CA.
BookFest Solano, a free-to-the-public, family-friendly festival, will be held on April 11-12, 2015 at the Hampton Inn & Suites in Vacaville, Ca. The hours are 9:00 to 4:00 on Saturday and 10:00 – 4:00 on Sunday. This festival is hosted by the Solano County Library Foundation, a nonprofit corporation. It is for readers, aspiring writers, and for sharing ideas with the theme "Growing Readers, Growing Writers." An exhibit hall will feature booksellers, authors, and people with book-crafting and marketing skills showcasing their products and services. Local and regional authors will be recognized, have opportunity to network, improve their skills, gain knowledge, and promote their work. Funds raised through BookFest Solano will aid the libraries and their literacy programs. ~ Wendy VanHatten