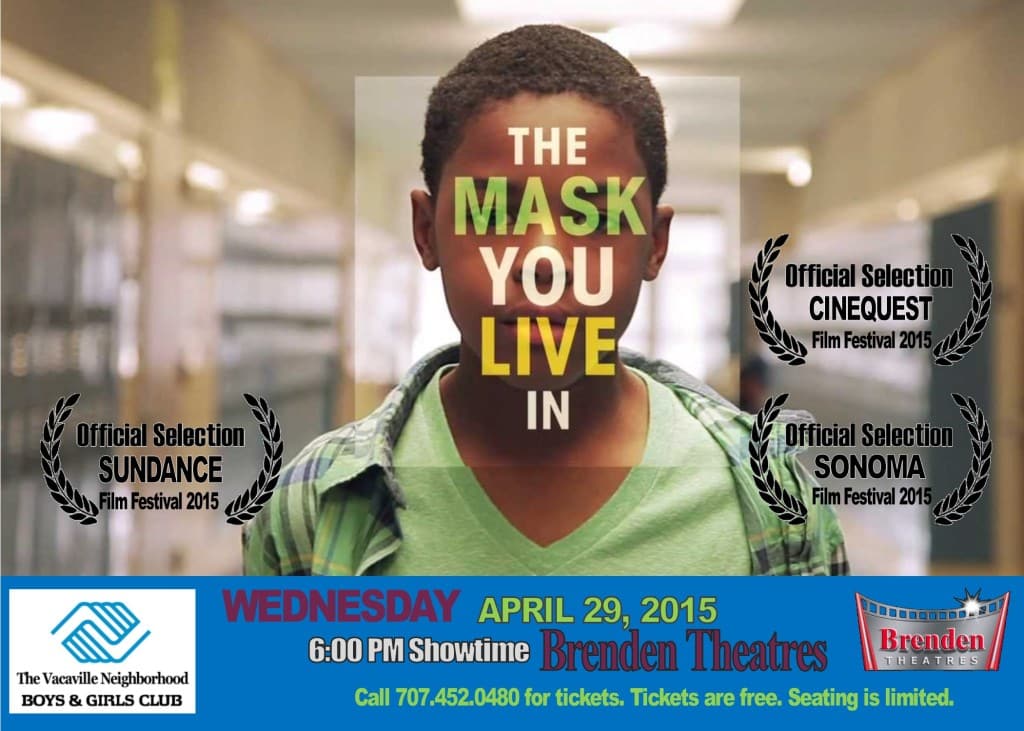 What is wrong with our boys today? Compared to girls, boys are two times more likely to flunk or drop out or school, boys are two times more likely to receive special education, and boys are four times more likely to be expelled. What's even more worrisome is that the third leading cause of death for boys is suicide.
As a social service agency, The Vacaville Neighborhood Boys and Girls Club serves a line-up of programs meant to teach life skills while also providing a platform to address social emotional issues for our boys and girls. These important topics are not unique to the children attending the Club, however; these issues are found wherever youth are present. In an effort to identify "what's wrong" the need to bring this forward as a public service mission began with a group of men on our Board of Directors who decided to meet with male students at Country High School to engage them in dialogue about choices, decisions, goals, relationships…life. So what's wrong with our boys today? They just need a safe place to talk and talking let's out some very important emotions: curiosity, opinions, sadness, anger, confusion. The natural human desire to talk about our feelings has somehow been deemed un-masculine so our boys don't. Beyond the students at the Club or Country High School, our community of coaches, youth ministers, teachers, administrators, counselors, law enforcement, probation officers, other non-profits, youth serving agencies, social service agencies, dads, uncles, brothers, and sons are encouraged to join the conversation on a broader scale. It is with a deep commitment to the betterment of our community and to the development of healthy masculinity that we bring The Mask You Live In documentary film to Vacaville.
The Mask You Live In is a film about the impact that our "narrow definition" of masculinity is having on boys, men and society in general.
The experts interviewed for the film say "that boys have been socialized in such a way that they're not supposed to experience pain or suffering and that they're expected to be dominant, stoic and in control at all times," said Jennifer Siebel Newsom, the film's writer, producer and director. She also wrote, produced and directed the documentary "Miss Representation," which examined the role of the media in the underrepresentation of women in power.
"If young men do not have an outlet for expressing their feelings and communicating honestly and outwardly with others, they are subject to an incredibly lonely and isolating existence," said Siebel Newsom, who is also the founder and chief executive officer of the non-profit The Representation Project.
"We have to redefine healthy masculinity for our boys to include empathy, emotion, care and compassion," she said. "And we have to model it, challenging unhealthy dominant norms in public culture and daily life."
The San Francisco Chronicle wrote on Wednesday, September 3, 2014 "Male depression gets inadequate attention, in part because our culture stigmatizes emotion in males, from toddlerhood on. Studies show that at birth, boys are just as sensitive as girls, but from their earliest days they are told, "Boys don't cry." Feelings such as sadness, humiliation and despair – natural human emotions – are marked as weaknesses.
So boys spend their developmental years suppressing emotions until almost all that's left is anger. When boys are in the most pain, they have nowhere to go, because it remains socially unacceptable for boys to ask for help. So what do they do? They hide feelings behind a mask of stoicism, humor or aggressive behavior. And it only gets worse with time.
So what is this documentary about? The Mask You Live In follows boys and young men as they struggle to stay true to themselves while negotiating America's narrow definition of masculinity."
Pressured by the media, their peer group, and even the adults in their lives, our protagonists confront messages encouraging them to disconnect from their emotions, devalue authentic friendships, objectify and degrade women, and resolve conflicts through violence. These gender stereotypes interconnect with race, class, and circumstance, creating a maze of identity issues boys and young men must navigate to become "real" men.
Experts in neuroscience, psychology, sociology, sports, education, and media also weigh in, offering empirical evidence of the "boy crisis" and tactics to combat it.
The Mask You Live In ultimately illustrates how we, as a society, can raise a healthier generation of boys and young men. The Vacaville Neighborhood Boys & Girls Club and the Soroptimist sponsored Step It Up program presents this documentary screening and panel discussion on Wednesday, April 29, 2015 at Brendan Theatres. The movie starts promptly at 6:00pm and is 90 minutes long. The full-length feature deals with difficult topics in a frank manner. As a result, we recommend the film for a 16+ audience although there is not an official age rating from MPAA or a TV Parental Guideline yet.
Our spotlight panel speaker, Ashanti Branch, M.Ed. is featured in the documentary for his work with teen males on this specific topic. Following the screening, Mr. Branch will facilitate a discussion as to where we go from here. Mr. Branch was born and raised by a single mother on welfare in Oakland, California, took the road less traveled to get out of the ghetto and attended one of California's premier engineering colleges, California Polytechnic, San Luis Obispo. He studied civil engineering and worked as a construction project manager in his first career. After tutoring struggling students and realizing his true passion was teaching, he changed careers. He had suddenly found the "fire" that was missing in his life and he hoped to ignite a similar enthusiasm in his young students. In 2004 as a first year teacher, he started The Ever Forward Club to provide a support group for African American and Latino males, who were not achieving to the level of their potential. Since then, The Ever Forward Club has grown
to serve both young men and women and become a 501(c)3 non-profit organization. The Ever Forward Club has helped 100% of its members graduate high school and 93% of them have gone on to attend college. With over 19 years mentoring youth and 10 of those years as a math teacher educating inner city youth, he was awarded with a Fulbright Exchange Fellowship to India, a Rotary Club Cultural Ambassadorial Fellowship to Mexico and a 2010 Teacher of the Year Award from the Alameda-Contra Costa County Math Educators. He is on a mission to change the way that students interact with their education and the way schools interact with students.
If you would like to attend, please call for tickets at 707-452-0480. Seating is limited and anyone in the community is invited. We are excited to help develop learning experiences where young people's voices are empowered to create a healthier culture and world.
The Mask You Live In
Brendan Theatres
Wednesday, April 29, 2015
6:00pm
Free to the public, tickets are required.