Today I spoke at the Soroptimist International of Vacaville meeting. I had psyched myself up yet again beforehand, mortifying my soul with the word, "speech".
In the past, when I spoke on behalf of my Memoir, How Far Will I Run tears were fought back between words and forgotten exhales. My audience has always been lovingly patient with me.
The ladies of the Vacaville Soroptimist's compassionately, empathetically held their breathe with me as I steadied my breathe and pulled back my tears to accomplish yet another fete of sharing my story so that others could feel that they weren't alone in this lifetime. These comforting ladies made it clear to me that they were present with me to accomplish my mission. I thank them and honor them for all that they do in their communities. Thank you Ladies for being such a supportive audience!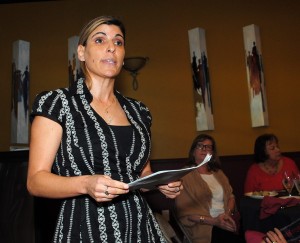 "Christina Baird, author of the book "How Far Will I Run" shares her courageous tale with Sorotpimist International of Vacaville, explaining how she offers training for adults who want to stop or prevent potential abuse of children."