Originally published in the Daily Republic on October 23, 2014 By Amy Maginnis-Honey.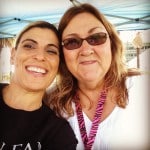 Jen Currier was looking to find her voice. She became the voice Wednesday for Break the Silence, a national organization that offers services to victims of domestic violence
Currier was one of about 100 people to attend the Day of Remembrance in downtown Fairfield. The event occurred in connection with National Domestic Violence Awareness Month.
She married her high school sweetheart. They had two children. After 15 years during which she said she was physically abused, Currier said she found the strength to leave two years ago.
Her father had died a few months earlier. Currier had never told him what was going on.
"I kept my mouth shut," she said. "It was a pride issue."
After her father's death, she made a vow to leave her husband the next time he hit her. She kept the promise to herself, got restraining orders against him and pressed charges. He served a few weeks in jail, Currier said.
She was thankful she survived the abuse, which she said began when she was pregnant with their first child.
"I'm proud to be a survivor," she said.
Currier helped staff the information booth Break the Silence had at the Day of Remembrance.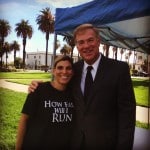 Ayesha Louis shared the story of her mother, Pearla Ann Louis, whose badly beaten body was found in a suitcase in San Francisco Bay four years ago. She had been killed by her boyfriend. They had been together about 18 months.
"To this day there are so many unanswered questions," Louis said of her mother's death.
"If someone claims to love you but they abuse and degrade you, it's not love," Louis said. "I don't want any story to end up like my mother's."
Capt. Joe Allio of the Fairfield Police Department spoke about how things have changed since he joined the force 30 years ago. When called to a domestic violence situation, officers told the husband to cool off and take a walk around the block.
Allio said Working his first domestic violence homicide, the police drove the three children, who had witnessed their mother's death, to their grandmother's house. Then, the officers walked away.
"We've come a long way," he said.
Claudia Humphrey, executive director of the LIFT3 support group, shared information about the Pass The Ball Campaign, which takes it cues from the recent incidents of domestic violence in the National Football League.
People were encouraged to pick up on the small footballs and pass them along with information on domestic violence prevention. The campaign is set to meet with Pop Warner teams to educate them about domestic violence prevention.
The Vanden High School and Fairfield High School football teams are also wearing purple bands in support of Domestic Violence Awareness Month, Humphrey said.
LIFT3 is an acronym for Leading Individuals Forward Through Tough Times.
Supervisor Jim Spering was honored with the 2014 Family Violence Prevention Inspiration Award for his efforts on behalf of the Family Justice Center in Fairfield.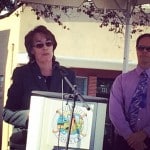 Carolyn Wold was presented with the 2014 Robin Jenkins Memorial Award. Wold is with the Family Justice Center. The award is named after Robin Jenkins, daughter of local minister Vic Jenkins. She was killed by her boyfriend while on the phone with her father.