Originally published in The Reporter on August 28, 2014 By Kimberly K. Fu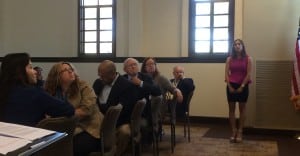 Mayors, city council members, county supervisors, police and medical officials and other community leaders turned out en masse Thursday for a talk on child sexual abuse in Solano and the need for awareness training.
Hosted by Hazel Payne, Miss Vacaville 2013, and Christina Baird, a Vacaville community services commissioner, the discussion combined personal testimony with statistics, visual aids and a panel collaboration to highlight the issue.
"It impacts society as a whole," Payne emphasized.
The aim — to raise awareness and push for countywide training for any city or county employee or volunteer who works or comes in contact with children. The training, put on by the Darkness to Light Foundation, will enable participants to recognize signs or potential signs of abuse and intervene.
Both Payne and Baird are survivors of such abuse and are advocates for prevention and intervention.
"Predators look for ways to groom families and their children," cautioned Baird. "Children will keep abuse secret because they don't want to hurt anyone's feelings." She called for opening a dialogue with all youths and offering a line for safe discourse to discourage just harmful secrets.
Vacaville City Councilman Curtis Hunt added that the consequences can last a lifetime.
"Child abuse is a learned, trained cycle that gets passed on to children," he said. "You don't have a role model to teach you affection. You don't have a role model top teach you respect."
The suggested training, he said, will provide tools for everyone.
"Crime is a motive matching an opportunity and we can't completely take away any motive," he advised, "But we can, in some cases, take away the opportunity. And I think that is what this training will do."
Debbi Davis with the Children's Nurturing Project said she has found that the majority of young women who pass through juvenile hall have been sexually abused. Through classes that promote self-empowerment and self-esteem, that issue is addressed.
"I fully support this project. I think it's fabulous," she said. "I think the conversation needs to continue to be loud and clear that we're not going to tolerate this."
Retired Vacaville Mayor Len Augustine pointed out that people must be aware that family and friends can be predators, too.
"You have to teach your children and your children need to be aware that they have to report things that happen," he said.
Retired Vacaville police Chief Richard Word agreed.
Abuse, he said, isn't defined to a specific class.
"It doesn't just happen to the poor. It happens in the so-called "good" families, too," Word said.
"This is not something we can rely on police to prevent or intervene. We typically get the call … when it's too late," he continued. "These predators are not strangers. They're not strangers. They're often people we know and trust and invite into our homes."
It's the community's job, added Anna Eaton, executive director of the Vacaville Neighborhood Boys & Girls Club, to help give children back their lost childhood and prepare them for the future.
Payne and Baird in September are set to become certified facilitators regarding the Darkness to Light training. They hope to offer the training, for free, to any Solano group or organization thereafter.
Solano County Supervisor Erin Hannigan, also an abuse survivor, said supervisors would pitch in funding for the educational training.
For more information on the training, contact Baird at christina@littlewingconnections.com.
For more information about the Darkness to Light foundation at http://www.d2l.org.