Originally published in the Daily Republic on August 29, 2014 By Ryan McCarthy.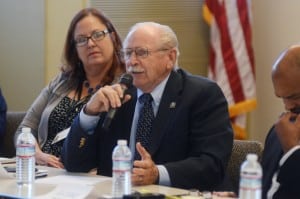 A Darkness to Light "Stewards of Children" presentation Thursday by former Miss Vacaville Hazel Payne and by Christina Baird about preventing child sexual abuse won praise from Solano County Supervisor Erin Hannigan and county Superintendent of Schools Jay Speck.
Hannigan said near the end of the event held at the Solano County Events Center that the issue of child sexual abuse needs to be discussed openly and not hidden. Speck said the matter is one for the community, not just schools, to face.
Educators are used to looking for bruises on kids as signs of physical abuse, but sexual abuse can remain hidden and underground, Speck said.
He added that the issue is one the community will act upon and said, "Solano County is a strong community."
Payne said at the start of the program, attended by dozens of people, that in February she started an effort to address child sexual abuse and recalled help from State Assemblyman Jim Frazier's office, including connecting her with Baird.
"A lot of people don't want to think about it," Payne said of the problem of child sexual abuse. "We're going to."
A quote from Martin Luther King was shown that read, "In the end we will remember not the words of our enemies but the silence of our friends."
Experts estimate that one in 10 children are sexually abused before their 18th birthday, according to information presented at the event. About 35 percent of victims are 11 or younger.
Vacaville Councilman Curtis Hunt, who spoke at the event, said at Tuesday's meeting of the City Council that when he worked as a probation officer, he helped send a lot of child molesters to prison.
Victims are mad at the perpetrator – and often at the parent they feel didn't protect them, he said.
Hunt said he supports anything that can be done to prevent abuse, but added that we'll never eliminate the motive for the crime – that's serious psychological stuff, he added.
Baird said Thursday that sexual predators groom families and not just children.
Many victims of abuse then abuse drugs and alcohol, Payne added.
"You lose control when you become a victim," she said.