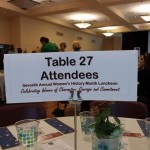 As some of you know I was the keynote speaker for Solano County Library Foundation's Woman of the Year awards luncheon honoring National Woman's History Month. Normally I am pretty comfortable speaking in front of large groups of people, when it comes to my personal story and my book, How Far Will I Run however, I tend to get a little choked up.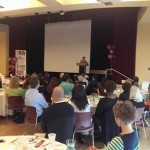 Kelly Welding and Sheryl Miller from the Joseph Nelson Center in Suisun let me practice in the room the past couple of weeks before to get acquainted with it. While I was practicing in the banquet hall, I envisioned it's spacious walls cradling me in it's  nurturing arms. Without a microphone, I bellowed my words to the back of the venue until my voice would slowly diminish. Memorizing my words as I envisioned my mind going blank on the actual day of the event.
You can imagine how their little acts of kindness meant so much to me!! Kelly, you were my ROCK during my presentation. Thank you so much again for presenting yourselves as helper spirits.