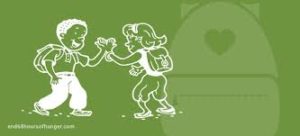 End 68 Hours of Hunger is a nationwide program that is being run in Vacaville. It is a 100% volunteer organization that provides bags of food on a weekly basis to local children suffering from weekend food insecurity (children who don't know where their next meal is coming from) between lunch at school on Friday and breakfast at school on Monday. It costs approximately $10 a week per child to pay for 3 dinners, 2 lunches, and 2 breakfasts. Since the start of this 2017-2018 school year, we have served an average of 120 children in 5 local Vacaville elementary schools (over 2000 bags of food delivered!).
In preparation for the 2017-2018 school year, the Kiwanis Club of Solano County proudly presents the High Stakes to End Hunger Poker Tournament benefiting End 68 Hours of Hunger on Friday, April 28, 2017. The event will be located at the Saturday Club of Vacaville on 125 W Kendal Street Vacaville. There will also be games, food, drinks, raffles, and silent auctions.
Kindly consider being a sponsor for this fundraising event. By joining forces with the End 68 Hours of Hunger program, you will be reinforcing your image as a philanthropic partner within the local community. We will provide you and your company with name recognition and special seating including sponsorship mention up to and during the event. Attached is a document that outlines the sponsorship levels and benefits.
Hunger in America is not a recognized social need, yet it occurs daily within our own communities. Across the country, 100 percent of food banks responding to a Feeding America survey reported an increase of 29-38% in the demand for food assistance in 2015.
Please consider sponsoring this event to help raise awareness about food insecurity. Anything you can do to help these children is appreciated. Our fundraising chair, Brandon Cherry, can be reached at (707) 685-0606 if you have any questions.
Brandon Cherry
3336 North Texas Street Suite J #187 Fairfield, CA 94533, 707-235-4036 vacaville@end68hoursofhunger.org,  www.end68hoursofhunger.org 
A 100% VOLUNTEER ORGANIZATION I TAX ID: 45-0998251