Originally published on Senator Connie M. Leyva Representing District 20 on September 28, 2016 By Connie M. Leyva.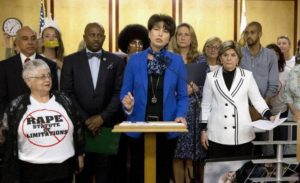 SB 813 Eliminates Statute of Limitations for Rape in California
After earning unanimous bipartisan support in both the Senate and Assembly, Governor Jerry Brown today signed SB 813 authored by Senator Connie M. Leyva (D-Chino) that will eliminate the statute of limitations for rape and related crimes in California.
Co-sponsored by San Bernardino County District Attorney Michael Ramos and the California Women's Law Center (CWLC), SB 813 will ensure justice for victims and survivors of felony sexual offenses by allowing the indefinite criminal prosecution of rape, sodomy, lewd or lascivious acts, continuous sexual abuse of a child, oral copulation, and sexual penetration. Existing California law presently generally limits the prosecution of a felony sexual offense to only 10 years after the offense is committed, unless DNA evidence is found which then offers a victim additional time. According to the United States Department of Justice, only two in 100 rapists will be convicted of a felony and spend any time in prison. The other 98 percent will never be punished for their crime.
"Governor Jerry Brown's signature of SB 813 tells every rape and sexual assault victim in California that they matter and that, regardless of when they are ready to come forward, they will always have an opportunity to seek justice in a court of law," Senator Leyva said. "Rapists should never be able to evade legal consequences simply because an arbitrary time limit has expired. There must never be an expiration date on justice! Today's approval of SB 813 is a testament to the hard work and commitment by a broad coalition of sponsors, supporters and advocates that have testified, written editorials, spoken with legislators, written to the Governor and kept the fight alive for the countless rape victims that have already spoken up and also those that have yet to come forward. I would like to specifically thank San Bernardino County District Attorney Michael Ramos, California Women's Law Center Executive Director Betsy Butler, women's rights attorney Gloria Allred and the many End Rape SOL members for fighting to make sure that all rape victims regain their voice and legal rights not just in public, but also in the courtroom."
Before proceeding to the Governor, principal coauthors Senator Fran Pavley (D-Agoura Hills), Assemblymember Autumn R. Burke (D-Inglewood), Assemblymember Mike A. Gipson (D-Carson) and Assemblymember Das Williams (D-Carpinteria)—as well as coauthors Senator Joel Anderson (R-Alpine), Senator Jim Beall (D-San Jose), Senator Tom Berryhill (R-Twain Harte), Senator Marty Block (D-San Diego), Senator Anthony Cannella (R-Ceres), Senator Jean Fuller (R-Bakersfield), Senator Holly J. Mitchell (D-Los Angeles), Senator John Moorlach (R-Costa Mesa), Senator Jim Nielsen (R-Gerber), Senator Richard D. Roth (D-Riverside), Assemblymember Rocky J. Chávez (R-Oceanside) and Assemblymember Tom Lackey (R-Palmdale)—had signed on in support of SB 813.
The "Justice for Victims Act" is supported by Attorney General Kamala D. Harris, Alameda County District Attorney Nancy O'Malley, Los Angeles County District Attorney Jackie Lacey, San Diego County District Attorney Bonnie Dumanis, Santa Clara County District Attorney Jeffrey Rosen, California Police Chiefs Association, Crime Victims United of California, End Rape SOL, Peace Officers Research Association of California, as well as many other law enforcement, women's rights, public safety, labor, victim's rights and community organizations.
SB 813 takes effect on January 1, 2017.