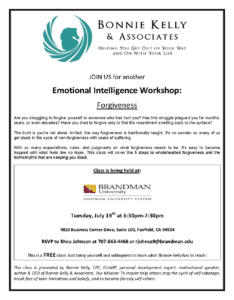 Download Flyer
Are you struggling to forgive yourself or someone who has hurt you? Has this struggle plagued you for months, years, or even decades? Have you tried to forgive only to find the resentment swelling back to the surface?
The truth is you're not alone. In-fact, the way forgiveness is traditionally taught, it's no wonder so many of us get stuck in the cycle of non-forgiveness with years of suffering.
With so many expectations, rules, and judgments on what forgiveness needs to be, it's easy to become trapped with what feels like no hope. This class will cover the 5 steps to wholehearted forgiveness and thetruths/myths that are keeping you stuck.
Bonnie Kelly & Associates will offer another free Emotional Intelligence session at the Brandman – Fairfield Campus on the topic Forgiveness. For more information, please see the attached flyer.
Bonnie Kelly will further unfold the concept of Emotional Intelligence to expand your understanding of the topic. No prior knowledge of the subject is necessary to benefit from this upcoming workshop.
You can register by contacting me or by clicking on the link below.
Tuesday, July 19th
6:30 pm to 7:30 pm
Brandman University – Fairfield Campus
4820 Business Center Drive, Suite 100
Fairfield, CA 94534