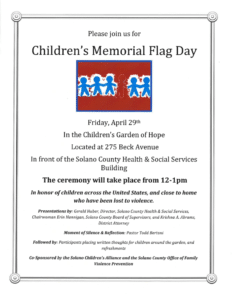 Download Flyer
Hello Everyone,
I wanted to send out a reminder invitation and the attached flier should you like to attend the Children's Memorial Flag Day Ceremony, scheduled for this Friday, April 29th , at noon, in front of the Health and Social Service Building at 275 Beck in Fairfield.
Each year, on the last Friday in April, communities across the United States raise the Children's Memorial Flag honoring each lost child and raising public awareness about the continuing problem of violence against children.
On behalf of the Solano County Children's Alliance and the Solano County District Attorney's Office of Family Violence Prevention, we really hope you are able to attend.
Thank you so much!
In appreciation,
Lori Frank
Solano Family Justice Center
604 Empire Street
Fairfield, CA 94533
(707) 784-7635