Originally published on DailyRepublic.com on Sep 30, 2015 By Amy Maginnis-Honey
The Boys & Girls Club of Vacaville will be the recipient of an Oct. 17 fundraiser.
The event is Christina Baird's 43rd birthday party. The Boys & Girls Club played an important role in her life while growing up, she said.
The theme is 100 Rad. Attendees should dress in their favorite old-school workout outfit.
In lieu of gifts, Baird asks that partygoers bring a donation for the Boys & and Girls Club.
Please Note Change of Venue: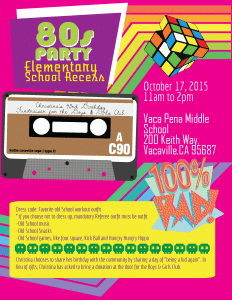 Download Flyer
The event is from 11 a.m. to 2 p.m. at Vaca Pena Middle School, 200 Keith Way.
For more information, call Baird at 738-9962 or email her at christina@littlewingconnections.com.
Reach Amy Maginnis-Honey at 427-6957 or amaginnis@dailyrepublic.net. Follow her on Twitter at www.twitter.com/amaginnisdr.
Amy Maginnis-Honey
Amy Maginnis-Honey joined the staff of the Daily Republic in 1980. She'll tell you she was only 3 at the time. Over the past three decades she's done a variety of jobs in the newsroom. Today, she covers arts and entertainment and writes for the Living and news pages.