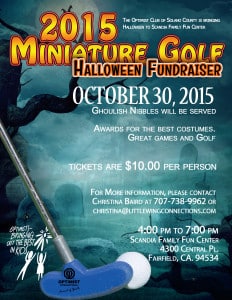 Download Flyer
The Optimists of Solano County brings Halloween 2015 to Scandia Family Fun Center.
The Optimist Club of Solano County, one of more than 2,900 clubs worldwide, will be holding a Miniature Golf Halloween Tournament on Friday, October 30, 2015 from 4:00 p.m. to 7:00 p.m., on the exciting green, at Scandia Family Fun Center located at 4300 Central Pl. in Fairfield. This will be the third year the Optimist Club of Solano County will be raising funds used to support and conduct more service projects to help the kids of Solano County. Donations in increments of $10.00 or more will sponsor a child from Aldea Family Services or The Vacaville Neighborhood Boys and Girls Club to participate in this fun family friendly event. Your generous donations will be greatly appreciated and provide a special treat for some deserving kids. This is a perfect opportunity for children to participate in a fun, safe event together during the Halloween season while raising funds for child based projects in Solano County.
The Optimists are known for "Bringing out the Best in Children" by volunteering first and fundraising when necessary. Among their yearly activities are; donating a tree to Vacaville's Opportunity House's Festival of Trees, Celebrating our youth in various schools humanitarian efforts including but not limited to JOI,(Junior Optimist International) programs, essay and oratorical contests, volunteering for our children's well being, and raising money for Solano County's youth living with Cancer.
Please join us in honoring our youth by sponsoring a child to have a safe Halloween. Sponsorships and donations are welcomed in increments of $10.00 per person. Tickets are available by contacting the Clubs president, Christina Baird at 707-738-9962 or christina@littlewingconnections.com
For more details, please contact, Christina Baird, President
Optimist Club of Solano County
www.optimistclubofsolanocounty.org
707-738-9962
Christina@littlewingconnections.com