Originally published on Daily Republic on April 12 , 2015 By Bill Hicks And Susan Hiland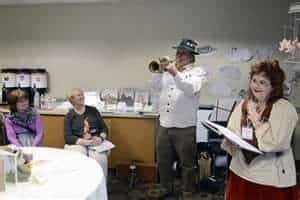 For those interested in reading and books, the inaugural BookFest Solano was the place to rub elbows with the creators of literature in its varied forms.
From publishers who spoke about all the processes of publishing to author's workshops on creating that perfect manuscript, the first day of the event had something for everybody.
"We started planning this two years ago after going to Santa Rosa's bookfest," said Betty Lucke, co-chair of BookFest Solano. "It was a really long drive and I thought it would be nice to have something close to home."
Lucke, author of "Festival Planning Guide," helped create BookFest Solano, a fundraiser for the Solano County Library Foundation.
"We don't have a goal of how much to raise, the sky is the limit," said Michelle Shown-Rodriguez, the foundation's executive director.
In addition to raising money for the foundation, the event was an opportunity to introduce parents to the Read and Romp program, which brings books to children growing up in poverty through their pediatricians.
Bookstores from Vacaville, Davis and Roseville set up book displays, and writers from the North Bay and East Bay came to sign books.
In an evening session at Epihany Episcopal Church in Vacaville, the foundation handed out awards to book contest winners.
The contest began in the fall of last year and culminated with the announcement of the winner for fiction, A. Cort Sinnes for his book, "Silverado Summer," and nonfiction, Judith Jordan for her book, "For the Love of Yoga." Honors awards also went to fiction writer Maceo Montoya and nonfiction writer, Roxanne Lance.
"We have so much talent in our community, we wanted to give them a vehicle to develop their skills," Shown-Rodriguez said.
Sinnes wrote several "how-to" books in gardening and home improvement, which helped develop his writing skills. At some point, the concept for "Silverado Summer" came to mind, sitting with him for many years before the contest presented the opportunity to get it out on paper.
"You have to hone that skill, and you do that by writing more and reading more," Sinnes said. "You're not really working at it unless you're in a chair sitting in front of a computer," he said.
Along with book contest awards, the foundation welcomed Lake Tahoe author Todd Borg, who gave a presentation about the state of reading and the process of crafting stories.
Like Sinnes, Borg feels the key to developing as a writer is reading more and writing continuously.
"Writing is like figure skating, it's the kind of thing you can only get good at by doing it over and over," Borg said.
The BookFest served to prove a love of writing and reading are both in abundance, even in a more digital age. In fact, digital outlets have helped reading flourish, Borg said.
"Tablets make it a lot easier for people to finish a book and tap a few buttons and have the next book in that series or have everything else that author has written," Borg said.
He assured the gathered audience that reading wasn't on the decline, telling them that tablets even help people for whom reading is a stigma disguise the fact that they are reading in a doctor's office or on an airplane.