Originally published in the Detroit Free Press on February 7, 2015 By Bill Laitner. Photos by Ryan Garza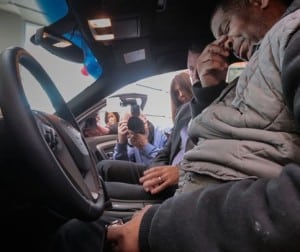 James Robertson's marathon commute to work will be slashed by hours, now that the hard-workin', hard-walkin' hero finally got a car.
Robertson, whose story in Sunday's Free Press about his 21-mile daily round-trip commutes made him an overnight media celebrity, registered total surprise Friday as he walked into the Suburban Ford dealership in Sterling Heights, expecting just to get some brochures. Instead, his dream car was there waiting and ready.
Unlike most people, Robertson didn't have to kick the tires or haggle over the price. Nor did he have to run any numbers to see if he could afford it. All of that was done for him.
Robertson, true to his modest roots and humble nature, will drive the model that he said he admired, a Ford Taurus: "It's simple on the outside and strong in the inside — like me."
Helping Robertson secure the car, which the dealership gave him as a gift, was Blake Pollock, a banker who befriended him during the factory worker's trek to work.
"I said, 'You really want a Taurus, right.' I was so scared that, at the last minute, he might say, 'Oh, I changed my mind to a Toyota' or something," Pollock said,
Putting any doubts to rest, Robertson broke into a grin as he sat in the 2015 car, with a sticker price of $35,215. David Fischer Jr., co-owner of the Suburban Collection, which owns the dealership that awarded the car, asked, "So, how do you like it?" "I don't like it," Robertson said, "I love it. It's just as I had envisioned.
"I can't thank people enough. I can't wait to show my coworkers," Robertson said, as he was handed the keys — and tried to start the car with them.
"No, you just push this button," said Fischer.
"Ohhhhhh," Robertson gasped, as a crowd of TV cameras rolled. "If only my parents could see this," said Robertson, 56, who still lives in the area of central Detroit where he grew up. "It's really a tribute to them, and the things they instilled," he said.
Indeed, it has been 10 years since Robertson has owned a car.
The banker in a suit and wingtips had been passing Robertson — in work boots — day after day, mile after mile, for a couple of years, when finally Pollock pulled over one day, pushed open the door and offered the stranger a lift. Gradually, he came to know Robertson's schedule, then his name.
Come to find out Robertson had been taking the bus from Detroit to a location near Somerset Collections in Troy, then walking more than seven miles to work and a little more than 13 miles back home in the dark — for 10 years. His older model Honda died on him, and at $10.55 an hour and Detroit's insurance rates, he couldn't afford to replace it.
Paying for insurance for his new car shouldn't be a challenge. An online fund-raising effort has generated more than $312,000, thanks to the generosity of 19-year old Evan Leedy of Macomb Township.
The GoFundMe site will be closed down on Sunday because "he really has enough, we think, to take care of his needs," Leedy said, as his parents stood nearby, smiling at the media crowd around their son.
The money will be earmarked for years of Robertson's car insurance and maintenance, as well as health and dental care and "other things that we can't predict right now," Pollock said.
Robertson said he was aware of the accumulating cash but said, "I"m not really worried about it — as long as somebody don't try to steal it. Blake's got some friends who's going to handle it."
Insurance quotes for keeping the car in central Detroit ranged as high as $900 a month for Robertson, who has a perfect driving record according to the Michigan Secretary of State's Office. Pollock found a relative bargain at about $400 a month — nearly $5,000 a year, he said. A national study last week put Detroit's average rate at $5,000 a year.
Pollock said he was assembling an unpaid board of advisers who would meet next week with Robertson to help him manage his windfall, including the payment of income taxes. The board will have a lawyer, financial planner and other advisers, but "I'm not going to be on it — I'm not even going to be at that meeting," said Pollock, a vice president/wealth management at the Troy offices of UBS. He said his involvement as a friend might appear to be a conflict of interest were he to help manage Robertson's sudden wealth.
This week, Pollock, of Rochester Hills, shepherded Robertson through a media frenzy while vetting countless offers of new and used vehicles for Robertson, bicycles, bus tickets and offers of free chauffeur service, along with clothing and appearances on national television. Robertson seemed unfazed by much of it.
"I'm the same man I've always been. They (parents) kept me humble and kept me working. When I slip into this car, I'll be thinking about them, every time," Robertson said.
But he'll also be thinking about where he's going — and on Friday that was back to work at Schain Mold & Engineering as a plastic injection molding machine operator for more than a dozen years with a perfect attendance record.
"My coworkers have been tickled by all this. They're like a family," he said of workmates. That's well above Michigan's minimum wage of $8.15 but not enough to finance a car and insurance in Detroit, judged last week to have the nation's highest auto-insurance cost by an Internet shopping service.
After signing numerous forms and hugging numerous helpers, Robertson rode off shotgun in his car with a dealership employee driving him to work.
"All the years I've been walking, I've been thinking I had to make a way, get some transportation. And now I know that prayer works. But the best part of the story is that it got everybody talking about the bus system," Robertson said.
"Right here in Detroit, there's just so many people in my situation (and), hey, we've got a problem with the buses. We gotta fix it," he said.