Originally published on Maria Shriver's Blog, Powered By Inspiration on February 1, 2015 By Maria Shriver.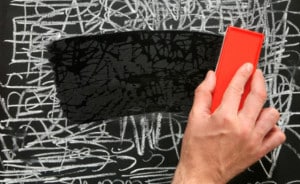 My daughter's friend Stephanie got engaged not long ago. This was big news in our home cause Stephanie had struggled in previous relationships. Now at the age of 35 she has found herself in a real and healthy relationship.
This week I went to her engagement party to meet her husband-to-be and to ask her how she turned her life around.
She said, and I quote, "I worked hard. Really, really hard to get me right. I took responsibility for my choices. I looked hard at myself, I wrote it all down then wiped my slate clean." (Ps this took time.)
"Wiping my slate clean," she said, "was a liberating experience because it allowed me to put the negative, the sad, the heartbreak, the shame, the guilt behind me. Once I did this a good, kind man appeared in my life and I was ready."
(She promised me she would write this up for our community and I'll share it once she does.)
I thought a lot about what she told me, what she told my daughters and the others who had gathered to celebrate her.
Wipe your slate clean. Give yourself permission to put the sad and the negative away. Give yourself permission to start anew. But first make sure you do the hard work on you so that you will truly be able to wipe out whatever feelings you have that are dragging you down.
I don't want to wipe my entire past away. It has made me who I am and those experiences and the many people I have met and loved on my life's journey are the ones I want to move forward with. But what we all can benefit from wiping away are the feelings of shame and sorrow, sadness and guilt that Stephanie was talking about. Those are worth wiping away because they are heavy and they prevent us from feeling light joyful and well.
Ironically, "Wipe Out" is also the name of the movement we are launching to wipe out the staggering disease known as Alzheimer's.
Alzheimer's disproportionally affects women and I'm hoping that scores of women will join us and put their brains to use to put the disease where it belongs: in the past.
We will give you more details as our movement unfolds but I love that it shared the name of the action that Stephanie took to get to happiness' door. Wiping out Alzheimer's… now that will be worth celebrating.