Originally published in the Daily Republic on January 16, 2015 By Ryan McCarthy.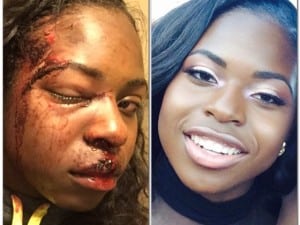 Three players on the women's basketball team for Solano Community College have been expelled after they were arrested this week in connection with an alleged attack Monday at Allan Witt Park on a fellow student.
Shemila Johnson, spokeswoman for the college, said she could not release the names of the players, who are barred from the campus and from any interaction with the team.
"When we found out," Johnson said, "we took proper action."
Justice Robinson, 19, Jai-Nice Robinson, 18, and Kiara Beacham, 19, who are no longer listed on the basketball team roster for Solano College, were booked Wednesday at the county jail on suspicion of felony assault with a deadly weapon causing great bodily injury, felony vandalism causing $50,000 or more in damage and criminal conspiracy.
Larry Bluford Jr., 41, said his 19-year-old daughter, who attends Solano College, had a falling out with friends who arranged to meet her at the park because they said they wanted to try to settle problems.
"It was kind of like a setup," he said.
His daughter was with two other females in a car when two vehicles arrived at about 6:30 p.m. at a parking lot at Allan Witt and eight people emerged with baseball bats and crowbars, Bluford said.
His daughter was punched and kicked, Bluford said.
She was taken to NorthBay Medical Center on Monday night where she received six stitches above her eyebrow and was treated and released, Bluford said. His daughter, who suffered a fracture near her eye, was at a Kaiser Permanente hospital on Thursday to see a specialist. Her right eye remained swollen, Bluford said.
He is the president and founder of The Harvest Unit Gathering Souls, a local evangelical ministry effort known as Operation THUGS.
Bluford said his daughter phoned the family after the attack and that his daughter was bleeding when he reached her outside Allan Witt Park.
Matt Borchert, coach of the women's basketball team at Solano College, said Thursday that law enforcement is looking at two more players for possible involvement in the incident at Allan Witt Park. The team that had 15 players now has 10, Borchert said.
"We're absolutely horrified by the events," he said, "and just heartbroken by the decision that unfortunately some of our team members made."
"All our prayers are with the Bluford family and their daughter," Borchert said.
Fairfield Councilwoman Catherine Moy said Thursday she hopes every perpetrator is prosecuted.
"Children look up to them," Moy said of athletes. "Those women are nobody to look up to."
"We are not going to tolerate this kind of violence in Fairfield," the councilwoman said.