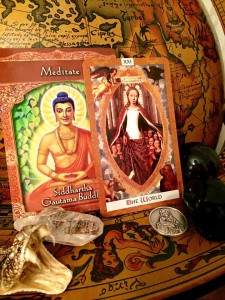 So, the last cards of this year. 2014 has been so amazing in so many ways. Every time I've been thinking to myself, "it can't possibly get any more magical than this", the Universe has at once grabbed my heart and said: Oh yes it can! Many friends have written to me lately and explained they are experiencing very intense times right now, with intense headaches and many ups and downs, I'm gonna tell you this, you are NOT alone. The awakening is painful, it's all about getting comfortable with being uncomfortable. Allow this pain to flow in…and out. It's all for your own good. There is no-thing in this World that is not here to serve YOU. Stay focused and alert, expect new powers coming to continue your shift.
The World Tarot Card.
The World indicates wholeness, both spiritually and individually.
"Traditionally, The World's Tarot card meanings refer to completion and rebirth. Things have finally come together. The World represents absolute balance. All things have found their proper place. This is the end of the seeker's journey. He is whole and complete and now ready for the next life cycle. In a Tarot reading, the World indicates that a union between the self and the Universe has prompted a new beginning. Destiny is now in play, and a new journey has just begun. Although the soul's journey has reached an end, a new one will begin."
The year 2015 is an 8 Universal year in numerology. 8 is all about Balance. Balance is Key.
I'm grateful for all your support and looking forward to share my journeys & insights in 2015.
I Love You.
Poyan.