Originally published in The Reporter today By Kimberly Fu.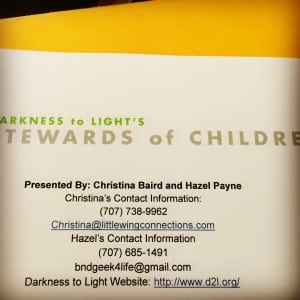 Two Vacaville women are lending their voices to promote awareness of child sexual abuse and they invite the community to join the conversation.
"It's still a very uncomfortable topic and not a lot of people want to talk about it," explained Hazel Payne, a former Miss Vacaville and co-moderator of a push for countywide training for any city or county employee or volunteer who works with children. "But we have to talk about it. It's important."
On Thursday (Aug. 28), Payne and Community Services Commissioner Christina Baird will host a presentation on the matter from 1 to 3 p.m. at the Solano County Events Center, 601 Texas St. in Fairfield. The event is free and light refreshments will be served.
The women, both survivors of child sexual abuse, will speak about their own experiences and their joint goal of addressing and, eventually, eliminating the crime. They will also talk about the Darkness to Light Stewards of Children training and Partners in Prevention program. Members of the support panel, including Carolyn Wold with the Family Justice Center and former Vacaville Police Chief Richard Word, are also set to engage.
Through the Darkness to Light Foundation, Payne and Baird are set to be certified as program facilitators. Essentially, they will be authorized to train others in recognizing signs of abuse, the potential for abuse and how to address those realities.
"Hazel and I come to this work with life experience, compassion and knowledge. We are sincere in our commitment to raise awareness about child sexual abuse," Baird said. "With the help of Darkness to Light, we choose to empower adults through awareness and educational programs to prevent, recognize and react responsibly to childhood sexual abuse to any youth organization within Solano County."
Training, Payne advised, takes just a handful of time and a few dollars.
"It's two hours and $10 to potentially save somebody," she said.
Baird agreed.
"There is no amount of time or money that can replace or make up for the innocence that is taken from a young child," she emphasized. "The mission starts here in our community of Solano County to end childhood sexual abuse. This can only be accomplished by sharing the solution of prevention, awareness and education with more and more people. This, in turn, builds momentum and over time, changes the way our community and culture cares for, protects and nurtures our children. Being an active participant in the mission to end childhood sexual abuse is one of the most rewarding things we will ever do – and we cannot do it without you."
According to the National Center for Victims of Crime, one in five girls and one in 20 boys is a victim of child sexual abuse, with the most vulnerable youths between the ages of 7 and 13.
This type of training, Payne continued, has been a long time in coming.
"I think it's going to open up some eyes," she said.
Register for the event by sending an email to Baird at christina@littlewingconnections.com.
For more information about the Darkness to Light foundation click here.
Click on the link for more information on the National Center for Victims of Crime.