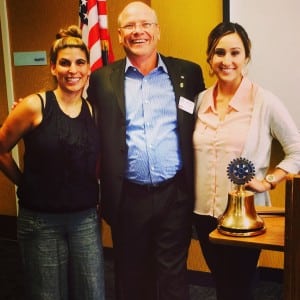 My colleague Hazel Payne and I, are both survivors of child sexual abuse. We come to you with a passionate mission to educate the adults in our Solano County community, who work with or interact with children in any capacity. Our goal is to educate these adults on how to implement effective prevention policies, recognize the signs of sexual abuse in children and respond responsibly if abuse occurs. Hazel and I are also ardent endorsers of Erin's Law focusing on youth with safe touch, unsafe touch, safe and unsafe secrets and stranger danger.
I am the author of my memoir, How Far Will I Run, which advocates a conscious choice to live as an asset to society by rewriting our personal scripts as survivors. I am one of the commissioners on the Community Services Commission for the City of Vacaville, appointed by Steve Hardy and own a public relations and marketing company called, Little Wing Connections. My company teaches businesses to be accountable for their community's growth and well-being by contributing their efforts whenever and wherever they can. I am also the acting president of the Optimist Club of Solano County.
Hazel is the former Miss Vacaville, child safety activist and college student, manifesting her life work in child advocacy and safety. As a child sexual abuse survivor, Hazel chose to advocate for children who have gone through sexual abuse. In February of this year, as Miss Vacaville, Hazel decided to create a petition on Change.org. The petition was aimed towards the Vacaville City Council to require sexual abuse prevention training for adults serving in youth organizations. The petition gained rapid attention, sparking the interest of the Vacaville Reporter newspaper, the Daily Republic newspaper, Vacaville Magazine, CBS 13 News, and News 10 Sacramento. Currently, the petition has over 200 signatures. In March of 2013, Hazel presented the petition to the Vacaville City Council where it was well received and was to be presented to youth organizations. Upon hearing the connection we both shared as advocates for youth in Solano County, Hazel approached me to join her in her efforts to implement child sexual abuse prevention training.
Hazel and I have taken the Stewards of Children training offered through Darkness to Light, an organization whose mission it is to prevent child sexual assault by promoting public awareness and training.
Hazel and I come to this work with life experience, compassion and knowledge. We are sincere in our commitment to raise awareness about child sexual abuse. With the help of Darkness to Light, we choose to empower adults through awareness and educational programs to prevent, recognize and react responsibly to childhood sexual abuse to any youth organization within Solano County. The training is available by a certified facilitator or online and lasts about two hours. Darkness to Light empowers adults with the knowledge they need to help protect children who participate in youth activities in their communities. It does not matter if the organization is faith based, sports driven, academic, or recreational, Darkness to Light has adapted the training to best suit all types of organizations. Once an organization has successfully trained 90% of their staff (permanent or volunteer), they are now recognized as Partners in Prevention through Darkness to Light. There is no amount of time or money that can replace or make up for the innocence that is taken from a young child. The hard truth is that 1 in 10 children will be survivors of sexual abuse and these are just the reported statistics; we know many more incidents of abuse go unreported. Our mission is to reduce this number by giving adults in our community the knowledge and power to take a stance in becoming Partners in Prevention.
Together, we are a source of inspiration for those who are looking for some sanctity within themselves. The mission starts here in our community of Solano County to end childhood sexual abuse. This can only be accomplished by sharing the solution of prevention, awareness and education with more and more people. This, in turn, builds momentum and over time, changes the way our community and culture cares for, protects and nurtures our children. Being an active participant in the mission to end childhood sexual abuse is one of the most rewarding things we will ever do – and we cannot do it without you.
We believe that learning the facts about childhood sexual abuse helps prevent it. Talking about it helps prevent it. Getting involved helps prevent it. The truth is, if childhood sexual abuse can be prevented, it can be stopped.
With this introduction, it is our intention to invite you to a free presentation with an endorsement panel proposing a Child Sexual Abuse Prevention training for our County set for August 28th at 1:00 pm to 3:00 pm at the Solano County Events Center located at 601 Texas St. in Farfield, CA.
If you are unable to attend, please send someone from your organization to report back to you on this great informative program that will be presented.
Please RSVP with Christina Baird at christina@littlewingconnections.com
With Best Intention,
Christina Baird
(707) 738-9962
Hazel Payne
(707) 685-1491