Originally published in the Daily Republic, Fairfield, CA. on May 17, 2014 By Amy Maginnis.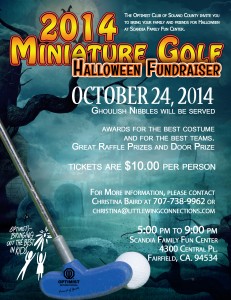 The Optimist Club of Solano County will host the 2014 Miniature Golf Halloween Fundraiser at Scandia Family Fun Center, 4300 Central Place.
The celebration is from 5 to 9 p.m. Oct. 24. Awards will given for best costumes and the best team.
Proceeds benefit service programs for children.
The Optimist Club of Solano County celebrates youth involved with the community through efforts such as raising money for children who are battling cancer.
For details and/or tickets, call Christina Baird at 738-9962 or email her at christina@littlewingconnections.com.