As reported  by Amy Maginnis-Honey in the Daily Republic today.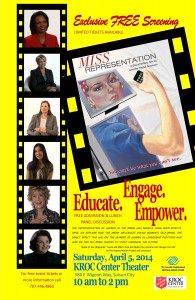 Download Flyer
"Miss Representation," a documentary about how the mainstream media contributes to the under-representation of women in positions of power and influence in America, will screen April 5 at the Kroc Center, 586 E. Wigeon Way.
The film debuted in the documentary competition at the Sundance Film Festival where it caught the eye of the Oprah Winfrey Network. It was shown on the network in October 2011.
Written and directed by Jennifer Siebel Newsom, the film challenges the media's portrayals of women and girls, which make it difficult for women to achieve leadership positions and for the average woman to feel powerful herself, said a press release for the event.
The film includes stories from teenage girls and interviews with politicians, journalists, entertainers, activists and academics such as Condoleezza Rice, Lisa Ling, Nancy Pelosi, Katie Couric, Rachel Maddow, Rosario Dawson, Jackson Katz, Jean Kilbourne and Gloria Steinem.
"We are thrilled to have so many outreach opportunities for 'Miss Representation,' " Newsom said in press materials. "This film was made to be a change agent in our culture, to inspire both women and men to recognize women's collective voice, leadership capacity and equal rights."
The local screening is free. Registration begins at  9:30 a.m.
For tickets, call Anna Eaton at 446-4860 or Susan Schwartz at 290-6999. Seats are limited and tickets are required.
A discussion will take place after the screening along with workshops that cover topics such as eating disorders, healthy relationships, body image and true beauty, gifts, strengths and leadership.
Local community resource groups will host information tables. Lunch is provided. More information on the film can be found at www.MissRepresentationproject.org.