As reported by Amy Maginnis-Honey of the Daily Republic today
FAIRFIELD — A Spanish class writing assignment was the impetus for Christina Baird penning her memoir, "How Far Will I Run."…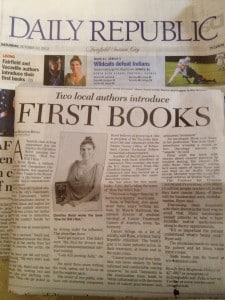 …Baird, a Vacaville resident who serves on the city's Community Services Commission, writes about her tumultuous journey to adulthood. Abuse and neglect are some of her earliest memories. When she was a teen, her mother turned her over to authorities, saying she couldn't handle her daughter.
At 16, she was an emancipated minor.
"I am a survivor," Baird said. She triumphed because she chose to let go of the stories from her past, to rewrite the script, she said.
"My story got old and tired," Baird said. "My story didn't work anymore."
In her 20s, Baird said she ran through life, working two and three jobs and partying with friends. Then, she got picked up for driving under the influence. That slowed her down.
Baird got married. That didn't work. She filed for divorce and attended nondenominational spiritual training.
"I am still growing daily," she said.
She spent three years writing the book, opting not to focus on just the negative parts.
The owner of two public relations and marketing companies, Baird believes in giving back. She is president of the Vacaville Optimist Club and volunteers with the Solano County Office of Education's Career Technical Educational high school program.
Another of Baird's passions is working with local chambers of commerce. This summer, she won the K.I. Jones Award from the Fairfield-Suisun Chamber of Commerce and has served as a chamber ambassador for more than three years.
She has ideas for two more books. First, she's riding the wave of "How Far Will I Run."
"This book is bigger than me. It has its own identity," Baird said.