Originally published in Polaris Network Newsletter on June 23, 2106 By Bradley Myles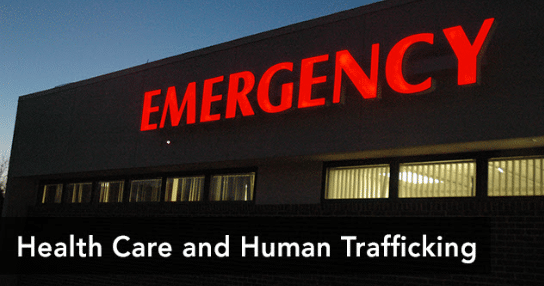 A few years ago, a 19-year-old girl named Jolene walked into a Boston emergency room late at night. She had an infection after a botched ear piercing. When the doctors and nurses examined her, they asked Jolene if she felt safe at home. She said yes.
What the doctors didn't know was that she had been dropped off at the hospital by her trafficker, who was forcing her to sell sex up and down the northeast.
Jolene's story is real. Although she did not escape her trafficking situation that night, she eventually did—and today, she is an advisor on human trafficking for Massachusetts General Hospital.
Healthcare professionals are uniquely positioned to be able to interact with trafficking victims. In one study, 88% of the sex trafficking survivors surveyed reported having contact with a health care provider while being trafficked.
Yet as Jolene's story shows, sometimes healthcare professionals don't recognize the signs of human trafficking. In another study, 95% of ER doctors and nurses surveyed had never received formal training on human trafficking.
A few weeks ago, the House of Representatives introduced a bill that would improve current human trafficking trainings for healthcare workers, as well as ensure that more workers receive the training. Since its introduction, more and more members of Congress have signed on to it.
Will you join us and call on Congress to pass this critical legislation?
It's vital that our doctors and nurses are adequately trained to identify and support victims of human trafficking. Trafficking victims should receive health care that is tailored to their needs.
We hope you are proud of the critical role you play in combating human trafficking. And we recently received news to make you even more proud! For the sixth consecutive year, the independent nonprofit evaluator Charity Navigator awarded Polaris a four star rating for sound fiscal management, accountability, and transparency. Only 4% of the charities rated have received this exceptional distinction for six years.
We couldn't have achieved this without you. Thank you for your willingness to stand with us in this fight. Let's keep it going.
With appreciation,
Bradley Myles
CEO
Polaris
Photo credit: KOMUNews / Flickr